PICC lines come with a lot of baggage. There's the emotional weight of having a medical condition, plus the stigma of having a visible medical device. Then there's the increased likelihood of pain and sensitivities that can come with illness, not to mention the wear-and-tear of adhesives on your skin. It's times like these when comfort becomes crucial. We are here to help provide patients with comfortable PICC Line Covers for sensitive skin!
Mighty Well was created for — and by — patients with this need, after CEO and Co-Founder Emily Levy was instructed to use a cut off sock around her arm to protect her PICC. She knew that she, and patients like her, deserved something comfortable, safe, and dignified. And so, the PICCPerfect® PICC Line Cover was born! Inspired by sportswear, it is stylish and discrete, empowering patients with confidence. The silver-ion antimicrobial technology in the PICCPerfect®'s patented fabric kills bacteria and other microbes. Its unique fold-over design keeps your PICC tucked away, so that the only thing touching your skin is the ultra-soft fabric.  
Over the years, we have continued to dream and make this product even better: more comfortable, eco-friendly, and with even more options for color and style! As we have designed our products, we've taken a moment to listen to our Friends in the Fight with PICC lines. It brings so much joy to hear our mission at work!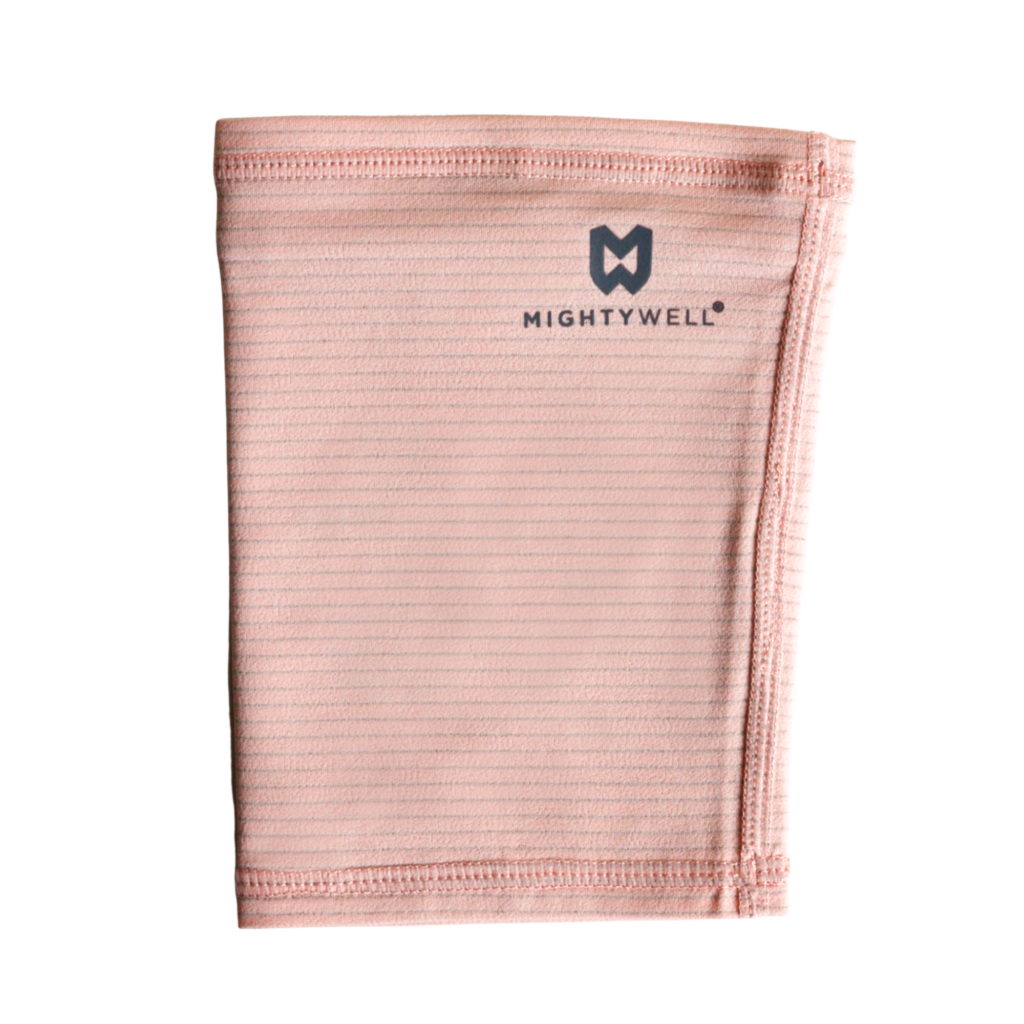 What people are saying
Before your product, my husband was housebound due to his fear of dislodging his PICC line. His newfound freedom has helped all of us enjoy fresh air and fun activities. AND he looks like a basketball star 🙂
I got the PICC Line Cover for my son so he could go to school like a normal kid again. I even let him participate in gym class. When we got the cover my son thought it was so cool and he thought he looked like a basketball player!
The only time I take my PiccPerfect® off is for dressing changes! My favorite part about the covers is being able to infuse in public without my insertion site showing, especially since I infuse during class. Thank you Mighty Well!
I bought this for my 15 year old daughter for her school dance, but she ended up wearing it everyday! She couldn't believe how comfortable it was. It was also a really big hit at school, everyone was looking at her beautiful face, not her PICC Line.
PICC Line Covers for sensitive skin!
When I got my PICCPerfect® cover the first thing I thought was how soft it was – It feels really nice on the skin! It actually lets you keep everything in place, without the PICC line ever having to touch my skin. My skin is extremely sensitive, so this helps a LOT!
The PICC perfect 2.0 is wonderful for my sensory issues. The soft fabric doesn't itch or bother me at all, and it prevents the plastic lines from touching my skin, which is a big bonus!
The biggest struggle I have had while adjusting to my new PICC line was finding something to secure and protect my dressing with all of the adhesive allergies and compression hives I get. This cover has been essential to my dressing of my line personally and is the only cover that hasn't induced MCAS hives!
The material is incredibly comfortable and the cover stays in place perfectly. I went through a couple weeks of having my skin react to the clean solution used on me and my skin was very sensitive as we tried everything to heal it up. Most fabrics would irritate my skin but my PICC cover was the only thing I could handle touching my skin!
It's cute and well made! My daughter also uses it for her eczema on her arms and it's nice and smooth and non-irritating.
This is my second PICCperfect® cover – I was so impressed with the first that I had to have another. It's the best cover out there, the design protects my skin from constantly being rubbed or chafed by the picc line. It folds the line neatly out of the way, and stays in place all day. I've recommended it to my doctor and home nurse and to everyone else that will listen!
Read more about different PICC securement options here!
Living with illness and disability can be isolating. Thankfully, it doesn't have to be. Sign up below to be in the know on our latest product and content releases, exclusive offers, and community events.
Shop the PICCPerfect® PICC Line Cover