Any medical device comes with risks and fears. PICC lines, while safer alternatives for those needing frequent IV treatments, do come with a risk of complications, which makes PICC line care so important.
The good news is that how you take care of your PICC can make a world of difference! We have asked our Friends in the Fight, over the years, for their tips and tricks. We've put together the Ultimate Guide to PICCs here, or the video version below! Keep reading for our 4 top tips for PICC line care.
A lot of people, like me, have issues with adhesive allergies, so if the first dressing you try causes a rash or skin irritation, don't fret! There are lots of different see-through dressings to try. From Tegaderm to IV 3000 and beyond, the PICC care nurse or doctor who placed your line should be able to help you find a solution. If you can't tolerate any adhesive, they can do something called a dry dressing. Don't worry if you have issues at first with your line; the healthcare world is huge, and there are lots of options out there!
2. Keep your PICC clean and dry
PICC lines are like a portal to the inside of your body. It is a medical miracle to be able to access such important blood vessels without needles, but it's important to also remember that the reason our skin is there is to protect us from infection. Keep your PICC line covered (see #5!) and talk to your doctor about the best way to change dressings and administer treatments. Medical professionals will be taking care of you along the way. Make sure you (and your medical providers) keep your hands and products clean before touching your PICC line or changing dressings. Since bacteria love moisture, be sure to keep your PICC line dry at all times.
Check out tips for showering here!
For PICC protection, check out Mighty Well's daily and waterproof PICC Line Covers here.
3. Know the risks and how to prevent them
There are other risks besides infection, such as blood clots, air embolisms, and line dislodgment. Check out tips here for avoiding these complications, and be sure to ask your doctor if you have questions.
On that note…
4. When in doubt, ask your health care team!
Medical devices require frequent care and questions. Your team will tell you how to care for your specific device, but it's easy to forget or feel unsure once you are home. Don't be afraid to reach out with a phone call or portal message! Even if your question does not pose an immediate health risk, having an answer will help you feel more comfortable and cared for.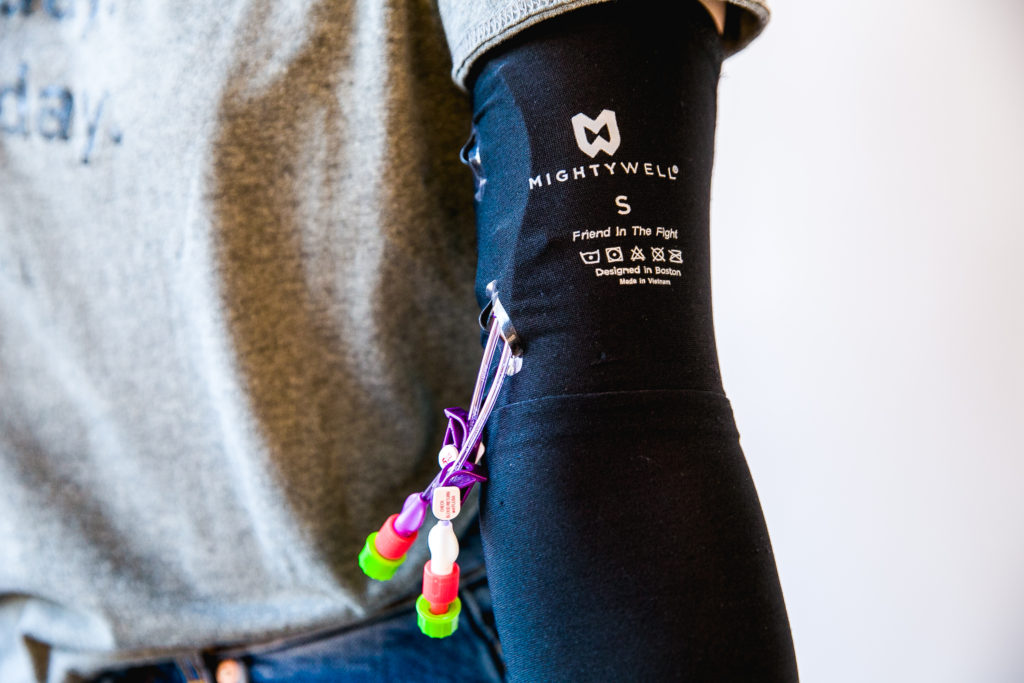 Bonus tip: Wear a PICC Line Cover
To make this time easier for yourself, consider getting a PICCPerfect PICC Line Cover! It is easy to use and comes in a variety of patterns and sizes. Its features are built for PICC line care to keep your PICC safe:
Antimicrobial fabric wards off infection
Anti-slip edges keep your line safe and secure while sleeping (even if you move around a lot!)
Soft-touch fabric keeps you comfortable while providing protection from the younger family members or pets you may be cooped up with
Got more questions about PICCs or Ports? Check out our Educational Hub for more information.
Living with illness and disability can be isolating. Thankfully, it doesn't have to be. Sign up below to be in the know on our latest product and content releases, exclusive offers, and community events.
---
Shop the PICCPerfect® PICC Line Cover