Living with chronic illness comes with an unfortunate amount of gear. That's why Mighty Well designed the Self Care Case — to help our Friends in the Fight™ with an intuitive, patient-designed medical organizer. I have been on the market for a comprehensive medical organizer for some time and was excited to try out the Self Care Case! Organizing pills is one challenge, but keeping track of liquid vials of multiple medications on top of pills and other miscellaneous equipment is tricky.
My first impression of the case was that it's a great size — large enough to actually fit lots of gear but not too bulky to fit into any of my bags. It can hold between 8-10 Resealable Storage Bags of pills, vials, etc. It also has expandable pockets on both sides. These mesh pockets are great for holding an assortment of supplies; it keeps them both secure and easily accessible.
Now the reviews are in! Check out what one of our Friends in the Fight™ has to say about her experience using the Self Care Case:
"This well-designed product assists with medication adherence by storing everything I need in one convenient, durable, portable, and easy-to-organize system. Not only am I using it multiple times a day, but I am also recommending it to my patients."
– Kirsten
Four (4) Storage Bags are included, but you can purchase replacements if you need more. They are clear, which helps to see what's inside quickly, and they have an easy-open slider to keep anything from falling out if the case gets jostled in your bag. Perhaps the coolest feature of the Storage Bags is that you can write on them! Washable markers will appear on the surface, but then wipe clean when needed. I love this versatility; I can clearly label and then change it at any time.
Use case #1: For a long day out, it helps me organize my AM/PM daily pills, as-needed pills, lidocaine gel, various eye drops, cream for dry/rash skin, liquid vials of different medications, etc. And best of all, it even holds snacks! For me, keeping my blood sugar steady can be just as important as the medications I take.
Use case #2: For a few days of travel, it holds my daily medications in each Storage Bag and letters from my doctor just in case I need to bring my liquids onto a plane.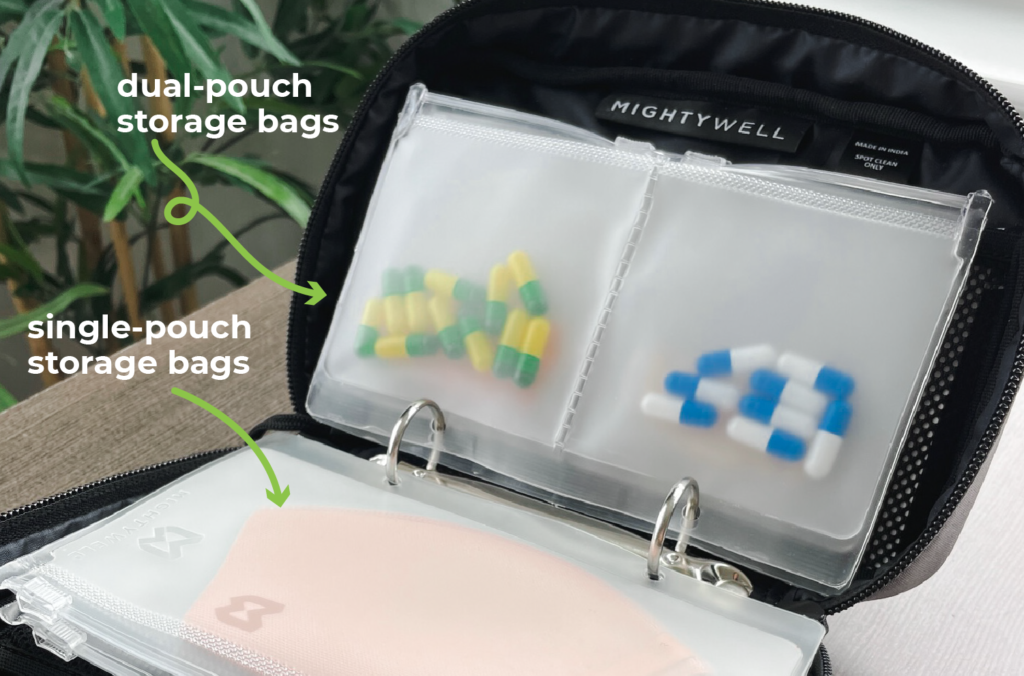 Here's what our Friends in the Fight™ are saying
We are so happy that the Self Care Case is helping to reduce the stress of managing a chronic illness for our Friends in the Fight™. Check out what our community had to say about how it has helped them turn sickness into strength.
---
"I'm obsessed. For me, I store my daily meds for the week, along with my inhaler, supplements, hand sanitizer, headphones, and a snack if I'm going out. But it can hold so much more than that; this small case has so much storage; whether you need to keep EpiPens, glucose monitors or syringes, a notepad, you name it, there is room to hold it all, and it works for everyone with any medical condition! Since moving to college, I have been awful at organizing my pills, and I am constantly misplacing my inhaler, so I love that I can keep everything in one place, so the stress of wondering where everything is, is gone!"
– Kirsten, chronic and invisible illness advocate, @crohnswarrior on Instagram
For additional photos and features, such as size, check out the website here. Have any other questions? Let me know!
Living with illness and disability can be isolating. Thankfully, it doesn't have to be. Sign up below to be in the know on our latest product and content releases, exclusive offers, and community events.