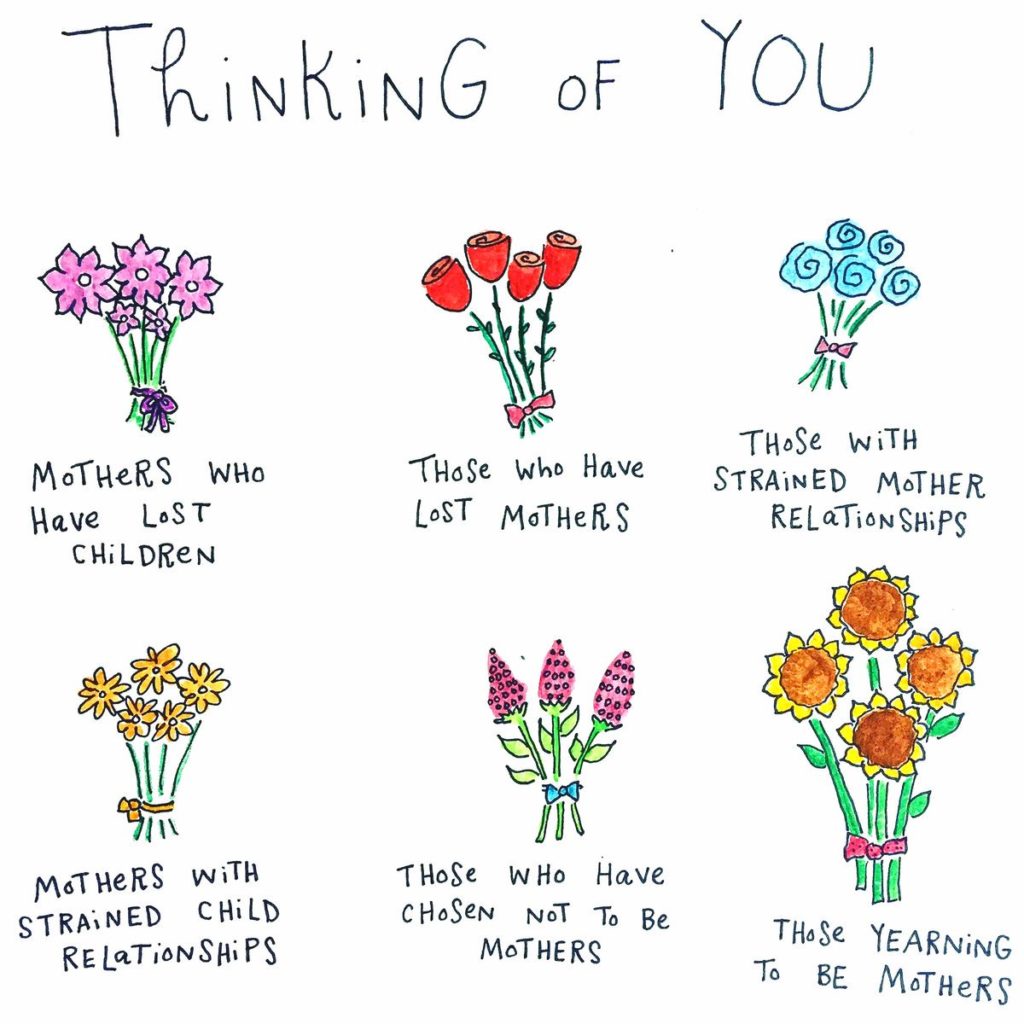 For a few years, I've posted this image around Mother's Day. As someone who has felt like an outsider and witnessed loved ones struggling with infertility or loss, it felt important to me that we remain mindful of how our traditions affect people.
This year, I hesitated. It's not that I've changed my mind. Rather, I noticed something that was missing: accessibility. This year, a number of people in my life have become so ill that they struggled to participate in Mother's Day, and are nervously anticipating Father's Day. Some are bed-bound. Others simply cannot travel to be with their parents or children. Still others cannot eat food or be around fragrant flowers.
I have had many times when I could not be part of holidays. My mom's birthday a few years ago, I woke up with a migraine, fever, and fatigue, and spent the day unable to lift myself off the living room floor. One Father's Day I'd planned to work in the garden with my dad, but the sun triggered my MCAS and my joints were too messed up to kneel or shovel. This Mother's Day, I wanted to go dancing with my mom but didn't know how my joints or GI dysmotility would do, and wanted to eat out with my mother-in-law but struggled with the wooden chairs, woodsmoke smell, and food options at the restaurant.
I do not think we should stop celebrating Mother's Day, Father's Day, or any holiday for that matter. Parents are incredible, often overworked and under-appreciated. Singing their praises one day a year seems hardly enough. I just hope that we can celebrate while paying attention to how our use of social media may affect others, and making sure that those in our circle feel included.
Tomorrow is Father's Day, an opportunity to celebrate the "fathers" in our life who parent in a variety of ways. To begin this practice, see if someone you know could use a listener to grieve their lost child or parent, or to vent about their strained relationship.  Celebrate them for their other acts of "parenthood" — taking wonderful care of pets, loving all their students, caring for someone who needs it. Check in with those you're celebrating with. Do they have food they can eat? Do they have transportation options that work for them?  Do you have opportunities for people to engage while laying down? If someone can't make it, consider bringing the party to them, even if it's a second party at a different time. But if nothing else, let those around you know they are seen, even if their experience is not what the world portrays.
Has anyone ever gone out of their way to include you in a holiday? What advice do you have for advocating to family members to make get togethers more accessible and inclusive?