Is it time to decide which medical device is right for you? There are a lot of reasons why patients may need to get a peripheral catheter inserted. Sometimes patients are given the option to choose between a PICC line and a port, but before making your big decision, it's important to know the facts about both medical devices.
Check out our favorite PICC/port products here!
how is a PICC line inserted?
When I got my PICC line, I went to the hospital and had a specialty nurse ultrasound my arm to look for an adequate vein. You are awake during the procedure, but they numb your arm before inserting the catheter. They push the catheter through your vein until it is in the right position, which is identified with an x-ray. Then, they bandage your arm and explain to you how to care for the PICC line.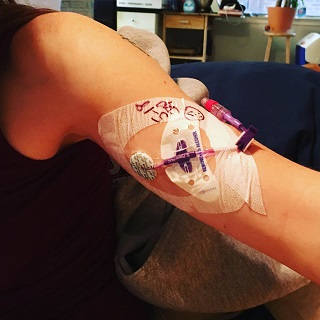 The whole procedure maybe took thirty minutes. They told me I was going to be sore afterward, but I was pain-free about two days after. They said everyone is different, and I could have had more pain because my veins were so small.

how is a port inserted?
I made an appointment with a surgeon to get my Port placed. I was in the hospital for about three hours, but the actual surgery only took about 40 minutes. For my PICC line placement, I was in about the same amount of pain, but they gave me pain medicine, so it was more manageable. Make sure you have a towel or something to put under your seat belt on the way home because that will cause some discomfort!
Ports are usually placed on the chest wall. An incision of approximately 3 cm is made in the skin on the front of the chest, where a "pocket" is created under the skin for the port to be inserted. Using ultrasound guidance, access is gained to the vein in the neck, via a small (5mm) incision.
The tube (catheter) is then fed through the vein until the tip of the catheter is sitting in one of the large veins in your chest. A small tunnel is made in the skin for the tube to pass through and the other end is connected to the port. Correct positioning of the catheter is confirmed by fluoroscopy (using x-ray). The incisions under the collar bone and the side of the neck are closed with dissolvable sutures (stitches), and a small sterile dressing is put in place.
Below, you will find a list of pros and cons about living with a PICC line vs. a Port based on my experience of living with both medical devices.
pros and cons for living with a PICC line
Pros:
Less invasive and expensive procedure

Good short term option if you only need an IV for a few months
Cons:
PICC line

has to be used or flushed every day

Cannot get the

PICC line

wet

Cannot lift weights or do activities with your arms that could risk it getting displaced
For extra PICC protection, check out PICC line covers here.
pros and cons for living with a port
Pros:
Less risk of infection than

PICC line

Port does not have to be used every day, just flushed every 14 days

You can de-access your port and go swimming or shower without a shower shield
Cons:
More invasive procedure (surgery to get it placed and taken out once you are all done with treatment)

Procedure can be expensive depending on insurance
I have learned these pros and cons from my own personal experience with both medical devices; however, it is important to note, that because everyone's body works differently, the decision that was right for me, may not be the best for you.This is why it is important to know these all the facts and associated risks before deciding which type of medical device is right for you!
Got more questions about PICC Line?  Join us in our Friends in the Fight Group to connect with our community.
---