Having a PICC line on your upper arm is no fun, but you can still manage tasks you need to accomplish without complications. A PICC line should not hinder you from the normal activities you enjoy. It takes a lot of getting used to, but it is worth it.
It can feel scary to not know what is safe to do with a PICC line, but don't let that keep you from living your life! We've made the Ultimate Guide to PICCs for patients and caregivers to help you feel more confident – watch it below, or keep scrolling to check out our quick list of the main risks to watch out for:
1. Avoid steamy bathroom changes
The steam from a shower can create a wet environment under your dressing and have an effect on the adhesive. Remember to change your dressing, disinfection caps, securement device, or needleless connectors on a clean, flat surface. Also, one great way to protect your PICC line is to use PICC Line Covers. They are soft and comfortable to use, so there is no need to worry about your catheter.
2. Do not touch
Do not touch the inner part of the needleless connector or catheter tip, even when you have gloves, since they will no longer be disinfected when you put on the dressing (or touch your skin). By means of an alcohol pad, hold your PICC with your other hand near, but not affecting the needleless connector. Make use of PICC Line Sleeves to securely cover the line.
3. Keep it dry
Don't submerge your PICC arm, go swimming, or do other things that could get the PICC line wet. Ask your family or healthcare provider to help you in the process. PICC line sleeves and catheters should always stay dry, no matter what. We recommend using a waterproof shower protector to ensure that your PICC line won't get wet while you are taking a shower or a bath, and learn what works best for you. If you want to have more insights about this topic, you can check this list of most common questions when showering with a PICC answered.
4. Keep it clear
After receiving IV nutrition, antibiotics, blood products, or chemotherapy, your PICC must always be flushed to prevent it from becoming clogged. It must be flushed every 7 days when it is not being used.
5. Don't re-use the old caps
Loose or disconnected caps can invite air or bacteria to enter the catheter. It may also leak blood or fluid near the loose cap. Always clean the end of the PICC with an antiseptic swab. Remember to replace it with a new sterile cap and disinfect every item before and after use.
Thankfully, many innovative and helpful products are specifically designed to help us manage our lines at home. You can check out our favorite PICC care products here.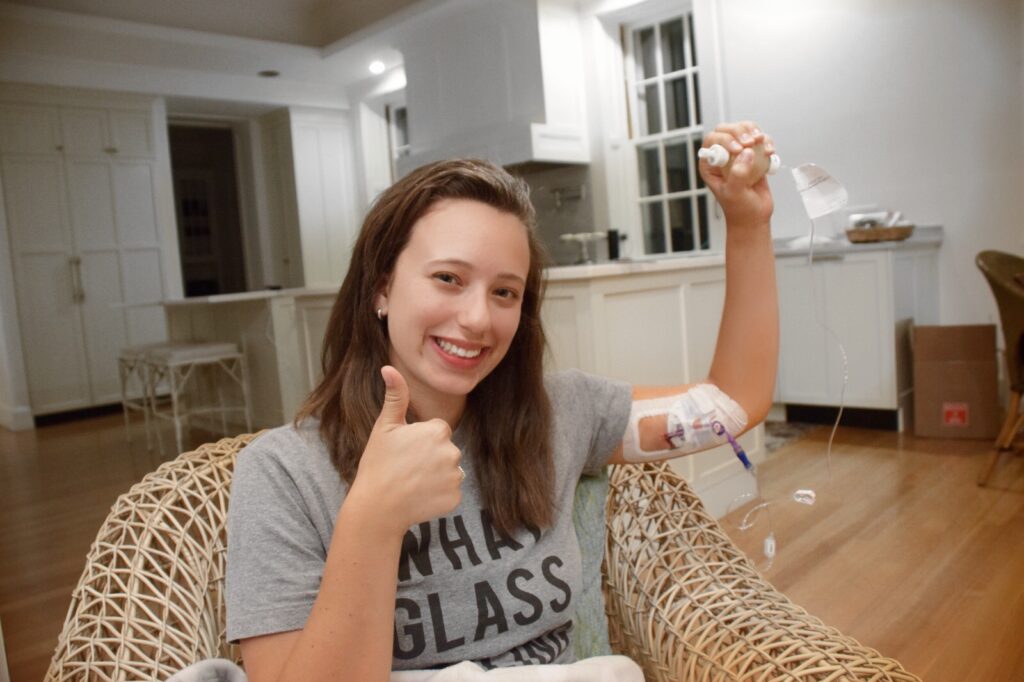 6. Keep away from sharp objects
To prevent complications with your PICC line, do not use pointy or sharp objects to avoid damaging or cutting it. When changing the bandages over your midline catheter, do not use scissors. Be extra careful to avoid putting a hole in your catheter.
7. Avoid arm activity
Stay away from activities involving lots of arm movement. Heavy lifting over 5 to 10 pounds should be avoided as well. Do not carry heavy backpacks or bags. There is a great risk your line could be dislocated if there is intense upper arm movement.
Always bear in mind to take care of your PICC line with the proper guidelines for changing and flushing. Also, protect your catheter with a PICC Line Cover or sleeve. You can be comfortable wearing them, and if cared for properly, your PICC should not get in the way of your normal activities, such as mild exercise, showering, school, or work.
If you liked this content, share it with your friends via email or social.
Got more questions about PICCs or Ports?  Leave a comment below or check out our Educational Hub for more information. For more information on caring for your PICC, watch the video below:
Living with illness and disability can be isolating. Thankfully, it doesn't have to be. Sign up below to be in the know on our latest product and content releases, exclusive offers, and community events.
Shop the PICCPerfect® PICC Line Cover