With any chronic illness, going out can feel daunting. What if something happens that triggers my symptoms? What if I can't take care of my body's needs the way I can at home? Or what if I encounter people who don't understand or actively make me feel worse about being sick or disabled? This can be a very difficult part of tube feeding on the go.
The sticking point for me is typically the gear – there is so much STUFF involved in keeping my body functioning that it's overwhelming to try to bring it all with me; that and the fear of being out of my element when something goes wrong.
But the reality is that I am almost always glad that I took the risk. Getting out to see friends, getting fresh air, or pursuing an interest, make life so much more meaningful. And when my mental health gets a boost, it does wonders for my physical health as well.
Navigating tube feeding on the go is tricky, especially for first-timers. We chatted with Erica, one of our Friends in the Fight, about her experiences getting out with a tube:
Can you describe how it felt at first?
"I wanted to try feeding on the go immediately! I started off feeding only overnight but I wanted to go to a concert and knew I would not be home until late and, therefore, would not be able to get my whole amount of food in before work the next day. So my husband and I went on Pinterest and then loaded up on supplies and created the first (of several) feeding tube on-the-go bags!
I wore the bag around the house for a few days before putting it into action. I had so many worries, but the first time went smoothly!
When we arrived at the concert venue, they asked to see inside the bag and then put a special sticker that said "medical supplies" so I wouldn't be asked about it once inside. I found that I tolerated my feed better when I was up and about and not lying down. So after that first night, I made a request at work and started wearing my bag every day!
What built up your confidence?
"What built my confidence was finding the right style bag and pump. My first bag was too big and my first pump was too heavy. Once I found a comfortable combo, I felt like my bag was just a natural extension of me. Check out the Fluid Motion Backpack here!
My biggest fear was always getting my tube stuck in something while I was walking around. To make myself more confident, I secured the tube to whatever I was wearing, so it was less likely to hang and get caught on something."
More tips on keeping your tube secure can be found here.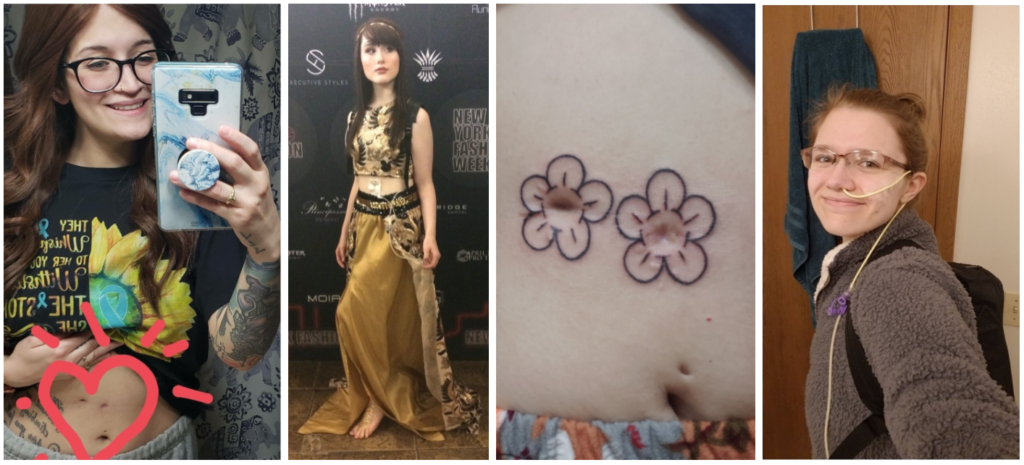 Was there a time when it got tricky?
"Any time I got a clog in my tubing. Besides the ANNOYING beeping sound while you're out, it sometimes caused pressure, and the tube would disconnect, causing feed to get all over me!"
What are the best tips you learned along the way?
"So many! Here are the best ones I was I has known from day one:
Set up your bag when you first wake up, this way, you can troubleshoot any issues while you get ready.
Make sure to bring extra formula, bags, extension tubing, something to clamp with (I used to carry binder clips for emergencies), and always have a flush syringe. I used to keep all my supplies in a small-size first aid kit or even a pencil case. The

Self Care Case

is another great option for carrying these supplies!
Bring extra clothes in case you have any leaks or explosions.
Car tip – if you don't have hooks above your windows, put a command hook or suction cup on the window next to you so your bag can hang. This helps prevent tubing kinks.
Having someone with you the first time you feed outside the house is HIGHLY encouraged, if only for moral support. This person may also be able to come up with new ideas, so it never hurts to have a second set of eyes."
Any final thoughts for someone giving it a go?
"It is really scary at first, but once you start, I promise you will feel like you have gained a bit of your freedom and control back! While you may need that tube to survive, it shouldn't hinder your ability to LIVE."
For more ideas and advice, check out the Feeding Tube Awareness Foundation's on-the-go section here.
Living with illness and disability can be isolating. Thankfully, it doesn't have to be. Sign up below to be in the know on our latest product and content releases, exclusive offers, and community events.