While it can seem that COVID-19 has stopped life in its tracks, the beautiful truth is that life has continued to move forward.  Students are still graduating, babies are still being born, people are still falling in love.  Celebrating these milestones is so important for helping loved ones feel valued and for maintaining some normalcy!  Yet the details of how and when to celebrate can get tricky.  Contact tracing has shown too many outbreaks as the result of parties and events in which one infected guest caused numerous infections and even deaths.  In the last month alone, I've watched a virtual bar mitzvah and virtual baby shower, attended a backyard ceremony for a postponed wedding that will culminate in a larger reception next year, and supported a friend whose fiancé was supposed to be joining her in the US for their May wedding, only for immigration to be shut down indefinitely.
What can we do to gather around those we love, while staying respectful of guidelines and responsible for the safety of others?
1. Save a later date
As challenging as it may seem, postponing a celebration may be the simplest and most effective way to keep your loved ones safe. You and your guests will be able to relax more and truly celebrate together once there is a vaccine and the virus is under control. Think of just how ready we will all be to party together when this is all over! This option has become so popular that many printing companies now offer "Change the Date" cards. We can even use this as an excuse to encourage positive behaviors in the meantime — "make our 2021 wedding come true by social distancing!" makes a great slogan for a fridge magnet.
Some events can't quite be postponed. Graduations just don't feel the same a year into whatever's next, and babies are not going to postpone their own due dates. Even if you are able to hold off, don't forget to celebrate this moment as well. Just because you can't do the full shebang this year does not mean you can't do something that feels meaningful in the meantime! Many couples who have postponed their weddings are still getting married. The term "minimonies" has been coined to describe small, intimate backyard ceremonies. These smaller events have become so popular, in fact, that we are likely to see more of them long after events become safe again.
More on postponing a wedding here.
2. Gather virtually
While it may seem impersonal, virtual events can be really beautiful. I've attended graduation ceremonies in which speakers and students could have the screen time to share their thoughts or a reading in a much more personal way than on stage. It can be a hassle to invite too many people into your home for a baby shower or birthday party, but virtually, you can invite as many as you want, with no risk of overcrowding your living room! You can also easily record events to keep as a memento or to send guests who were unable to attend. Holding events online can actually help loved ones who would have struggled to access the occasion in person due to health or travel complications.
More here on how to virtually plan and livestream your wedding.
3. Keep it small, keep it safe
Gatherings can be done safely and responsibly if they are kept small enough.  Official restrictions vary from state to state, typically limiting gatherings to 10 or 50 people.  You should familiarize yourself with the CDC guidelines here, and also keep in mind the severity of cases in your area.  The key is to remember social distancing practices.  In the space you have available, can all guests realistically maintain six feet of distance?  Can you stagger seating to maximize distance?  Remember that everyone wearing masks will reduce the likelihood of an unsuspecting COVID carrier accidentally infecting everyone else.  If food will be served, guests will need to remove masks.  Is there space to eat spread out enough that they will remain safe with masks off?  How will the food be prepared and served?  Buffets, especially if people are all touching the same serving utensils, are not a safe option.  Make sure to think through details like lines for bathrooms, high-touch surfaces like door knobs, and having ample hand-washing stations.  Activities like dancing on a crowded dance floor should be avoided, while spread out activities like watching a live band outdoors are much safer.
Too many people love you to keep the numbers down? Try staggering the guests, so that only a portion are there at any given time.
4. Get outside
Even maintaining six feet of distance, your guests could still be at risk for long periods indoors. One person's breath (especially if they are mask-less) could eventually circulate around the room, infecting people farther away. We have seen this take place in restaurants and sports arenas. Opening windows, providing air filtration systems, and simply hosting outdoors can make a tremendous difference! Now is the perfect time to revel in the beauty of nature. Germs exhaled outdoors dissipate away quickly and are much less likely to cause infection!
5. Give the gift of good health
For all of its challenges, hosting an event in 2020 will ensure your party is a memorable one!  Why not capitalize on the ridiculousness of it all by choosing party favors to fit the times?  Couples planning weddings and baby showers are providing personalized hand sanitizer bottles and face masks as favors.  Not only is this a cute and topical gift, it also shows your guests that you care about their health and safety, and gives them the tools to keep one another safe.  For orders of 100+ masks, Mighty Well will print your event date, a cheeky slogan, or a meaningful symbol on the side of your guests' masks.  Mighty Well Masks are ridiculously breathable, so soft, and moisture-wicking, so even at a sunny outdoor event, your face won't stay sweaty!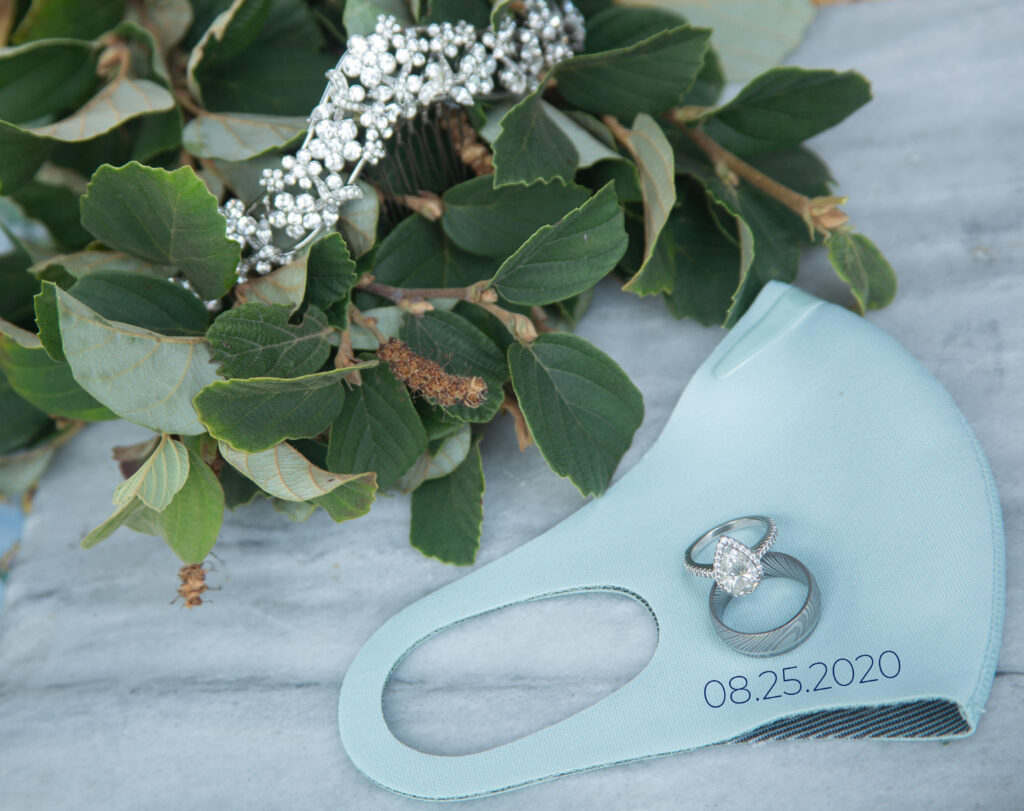 However you choose to honor your milestones, we hope you find meaning and a chance to connect with those you love, while keeping your community safe 💚
Looking for more tips?  Check out this in-depth and organized COVID-19 wedding planning guide — and yes, it is adaptable to non-wedding events!