Being diagnosed with and undergoing treatment for cancer is one of the most challenging obstacles life can throw at you. Searching for the best gifts for our loved ones who are receiving cancer treatment can feel extremely daunting, despite our best intentions. We know that we want to support our loved one in any way we can, but it can be hard to know the best way to do this. Our cancer gift guide was created to help you!

We've pulled together eight of our community's favorite gifts for cancer patients to form this gift guide. Ranging from practical to sentimental, each thoughtful gift will let your loved ones with cancer know how much you care.
1. Blankets
There are endless places in the world where you would rather be than sitting in a waiting room at a hospital. Add in the fact that hospitals are notoriously drafty places, and the experience can be downright brutal. Keep your loved one warm and comforted with a high-quality blanket that is travel-friendly. Based on her personal experience, Amanda Morrissey tells us that having a high-quality blanket and their own pillow (that doesn't smell like the hospital) is a must if you want your loved one to feel at home.
2. Daily medication organizer
We know firsthand the struggles of trying to plan a trip while undergoing treatment. A medication planner, like our brand-new Self Care Case, can help keep medications organized and easily accessible, perfect for taking on the go. More often than not, patients need to leave suddenly for the hospital, and having all medical needs in one place is essential for the patient or his/her loved one to grab and go.
Our Friend in the Fight™, Sandra, is a Type 2 Diabetic and Breast Cancer Survivor. The Self Care Case is helping her to keep everything organized as she works to define her new normal.
"Too many times we have been away from home and stopped to eat, but I don't have my test kit, pills, or just something. Now everything fits in this small case without getting crushed, lost, or falling out of my purse. This held EVERYTHING plus a week's worth of medication." – Sandra, Friend in the Fight™.
Empowering your loved ones to organize and take control of their medication management can be a massive help on the journey to recovery!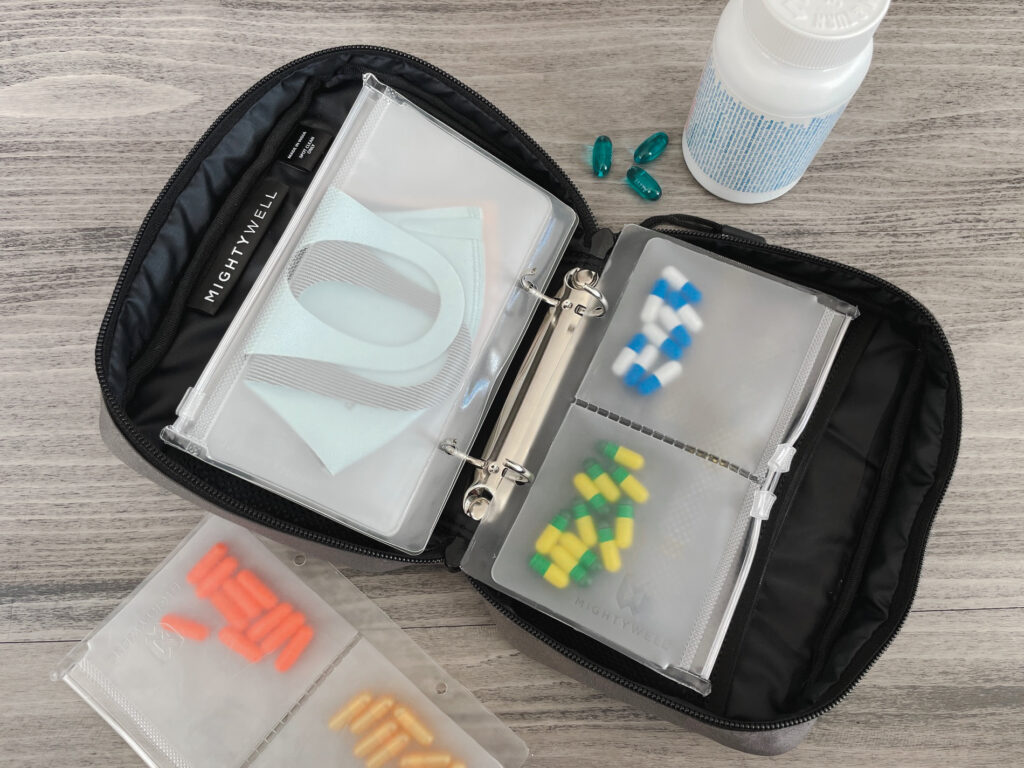 3. Sturdy bag
It's easy to forget things when you're juggling appointments, work, and everything else thrown at you in one day. A well-organized bag is essential to keeping everything together, including medications, in one place. The Fluid Motion Backpack was designed for patients, by patients to hold both personal and medical items that patients need in their daily lives.
"I am IN LOVE with the Fluid Motion Backpack. I love the number and sizes of pockets that this backpack has! My whole life, I have had to put my medical supplies in a zip lock bag because the backpacks I got didn't have pockets, but now I use the pockets that this backpack provides. I also love the size of the backpack. Thank you, Mighty Well, for making this backpack! It's helping so many people, and I can't wait to show others this amazing product." – Kayla Blotnick, @kaylablotnick.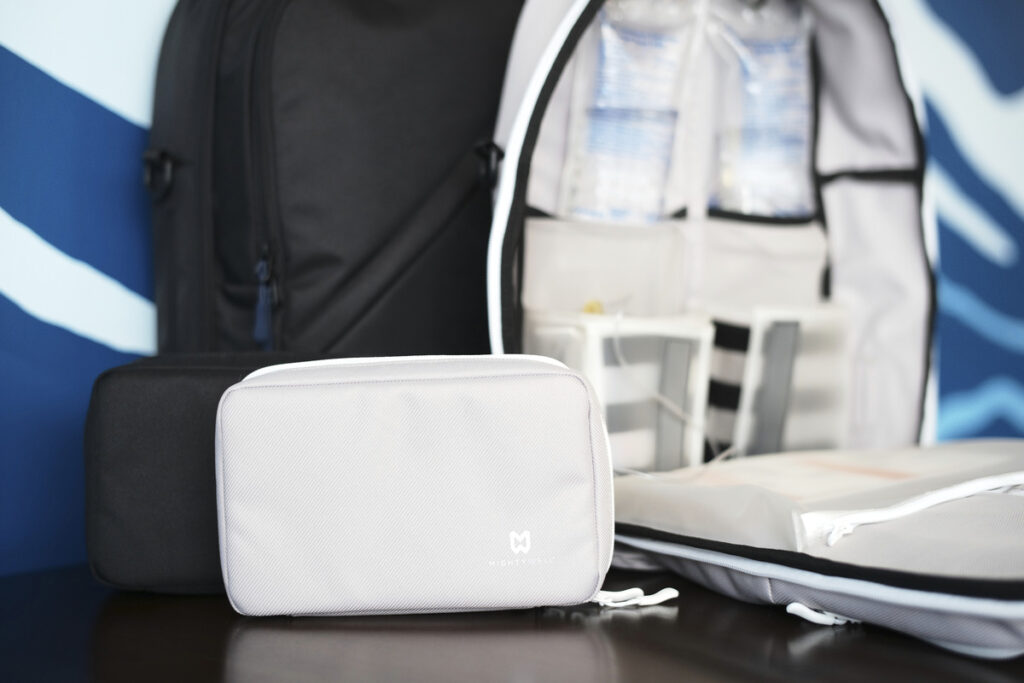 4. Good reads (and listens)
A good book – either a hard copy or an audiobook – can make time go by faster during wait times, hospital stays, and treatments. Whether it's a childhood favorite, a modern classic, or a book that helped you through your own personal struggles, a thoughtful book can make a world of difference for your loved one. Not a bookworm? An adult coloring book is a meditative way to pass the time and keep one's mind off stressors.
5. Portable games
Sitting around in waiting rooms and during treatments can be mind-numbingly dull, but board games are a great way to break up the time. One of our recent Mighty Mentors participants, Jarrod, loves to play games with his family and friends during chemo. Look for games that are portable and easy to travel with – a simple book of crossword puzzles or Sudoku is a classic and safe choice.
6. The cocoon cardigan
Some chemotherapy drugs can make patients feel cold, which makes hospitals feel even colder. A cozy jacket is a practical gift for any patient, which is why we designed the Cocoon Cardigan in super comfortable, fashion-forward material. Its handy pockets are perfect for carrying medical supplies and medications, and we've found that the Cocoon Cardigan is especially popular with post-mastectomy breast cancer patients who are looking for a garment to hold their drain.
Elise, our Friend in the Fight™ from Newport, RI, can speak to this. She said the Cocoon Cardigan was a perfect gift ahead of her lumpectomy.
"In preparation for a lumpectomy, a friend gave me this wrap. I loved the fabric, cut, and drape of the wrap before my surgery, and post-surgery, it was a great way to give me a beautiful shape with roomy coverage over my bandages." – Elise, Friend in the Fight™.
7. Journals
Getting your thoughts and feelings out on paper can be cathartic and help reduce depression, anxiety, and stress. Since stress can have a detrimental impact on health, journaling can be especially important for patients who are being treated for chemotherapy. There are plenty of different options available, ranging from beautiful hardcover notebooks to guided gratitude journals.
This can be a good gift for anyone during serious treatment, even if they aren't experiencing chemotherapy. Writing about my treatment and illness journey has helped me process and come to terms with the experience and has also helped me realize how much progress I have made over time.
8. Day of rest
Amid chemotherapy, even the smallest things can be incredibly challenging. As Shelby wrote when she shared her story with Mighty Well, "I was so dependent on everyone around me. What is so simple to people, such as walking to the bathroom or taking a shower, was impossible for me." Taking one thing off of someone's plate, no matter how small it may seem, can make a big difference.
A gift certificate for a massage, facial, or acupuncture appointment can help a friend or family member destress. If you live far away, gifting a cleaning service, dog walker, or grocery delivery can reduce the stress on days when they're exceptionally busy or not feeling well.
Living with illness and disability can be isolating. Thankfully, it doesn't have to be. Sign up below to be in the know on our latest product and content releases, exclusive offers, and community events.