Last year, I had my first PICC line placed to receive long-term IV antibiotic therapy for Chronic Neurological Lyme Disease. Since the first daunting procedure, I have had three additional PICC lines placed due to complications along the way. In the beginning, I felt entirely overwhelmed, not only with having a catheter tunneling from my bicep down into my heart, but also having to learn how to administer IV medications on my own.
---
A YEAR LATER…SELF IV ADMINISTRATION HAS BECOME ROUTINE.
Chronic Neurological Lyme and its bonus diseases have taken me down many roads. However, I have come to find that if you condition yourself to look for the positive, you can change your perspective on any negative situation.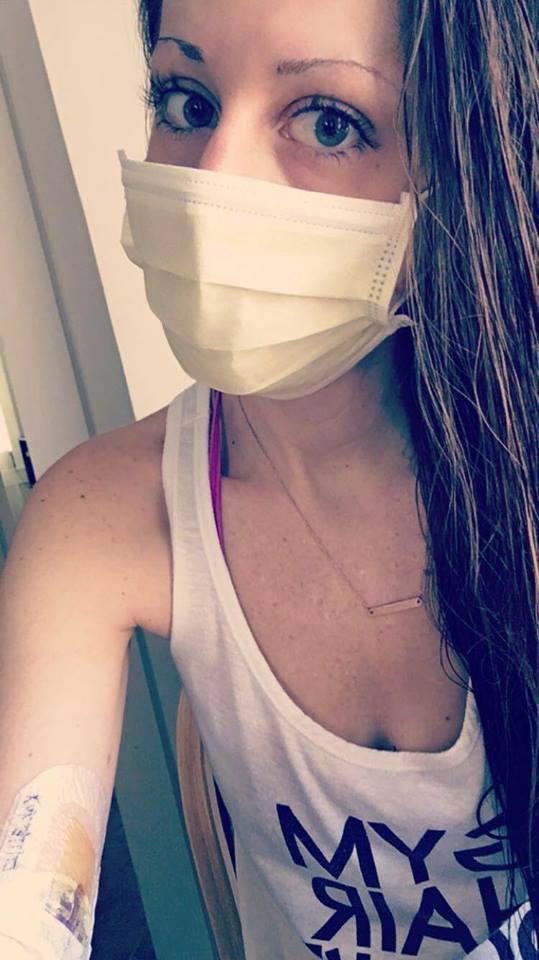 Unlike the majority of illnesses, Chronic Neurological Lyme Disease is not recognized by the CDC, which forces the majority of patients (and their caregivers) to become their own nurses and/or IV teams. Beyond taking on that enormous responsibility, this lack of recognition leads health insurance providers to deny coverage for life-saving treatments, home healthcare, and any related procedures or testing you may require.
Truthfully, I don't know if it gets any easier over time, or if you just get used to living life this way, but regardless, you will adapt and living with a PICC line will become the new (temporary) norm.
SO, WHAT IS A PICC LINE AND WHAT KIND OF PATIENTS BENEFIT FROM HAVING ONE?
A PICC line (Peripherally Inserted Central Catheter) is a long, thin tube that is threaded through a vein in your upper bicep, traveling down into your superior vena cava, right above your heart. PICC lines are for patients who require long-term IV medications, fluids, nutrients, or blood products. Access to the bloodstream is required for a number of treatments including treatments for Cancer, Diabetes, Lyme Disease and TPN (total parenteral nutrition).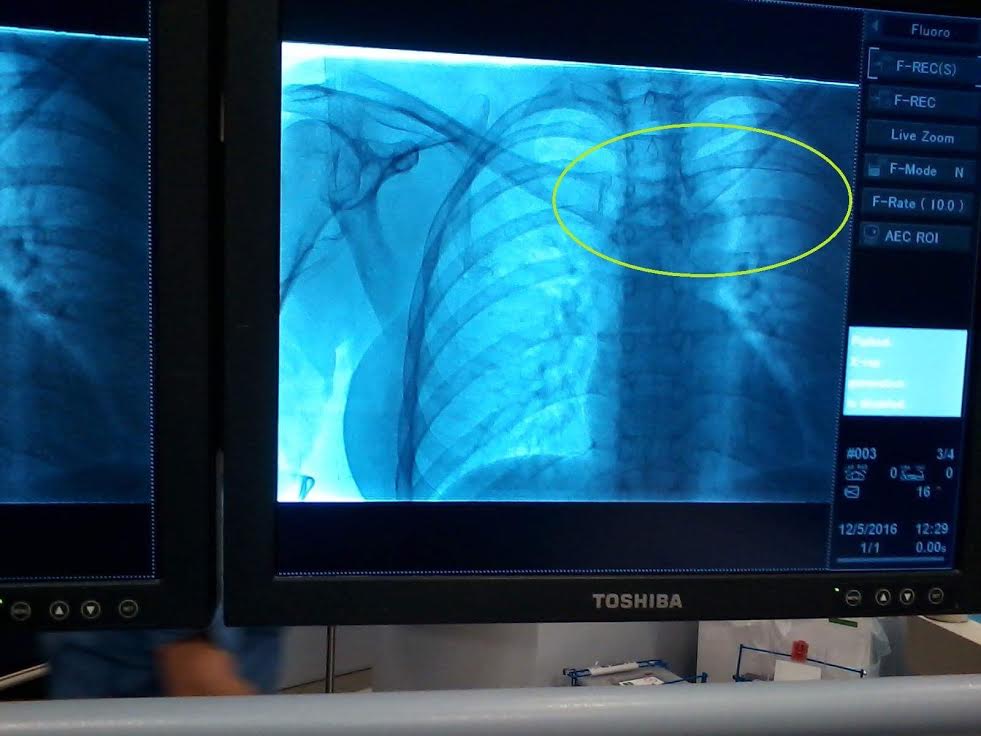 IT'S OF UTMOST IMPORTANCE TO PROPERLY PROTECT AND CARE FOR YOUR PICC LINE!
This means keeping the area dry, clean, and the dressing secure. If you are able to get Home Healthcare, I strongly urge you to take full advantage of it. Having your dressing changed in your home, believe it or not, poses much less risk for infection than having it done in a hospital setting. Additionally, seeing the same nurse consistently allows them to get a sense of what is normal for your body and may be able to intervene earlier or make recommendations based on your condition.
See how my nurse performs my dressing change in this quick video!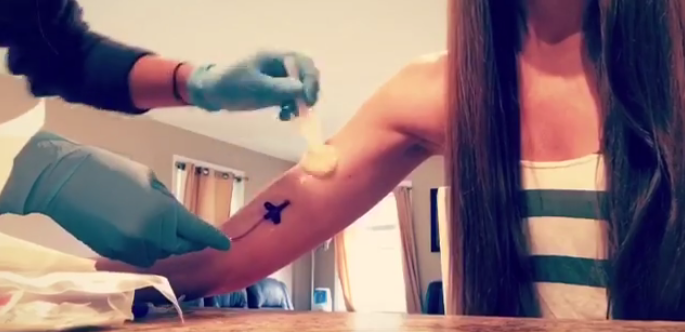 *Note: Nurses are not created equally. You are your own best advocate. If you feel uncomfortable or have questions regarding your care, you should always speak up!
I've confronted the reality that recovery is almost never linear. Below are some important risks to be aware of before having your PICC line placed.
IT'S BETTER TO KNOW ALL OF THE ASSOCIATED RISKS INVOLVED FOR PREPARATION, BOTH DURING AND AFTER THE PROCEDURE:
There may be slight discomfort during the procedure. Your arm may be sore for the first week or two. Remember to bring an extra pillow to prop under your arm for the ride home. Comfort is everything!
Bleeding may occur at the insertion site. Leakage can occur due to skin elasticity, outward line migration, or line rupture.
It is sometimes necessary to attempt the PICC line placement more than once and it may not be possible to insert the entire length of the PICC. During insertion of a PICC, accidental puncture of an artery, nerve, or tendon can occur near the insertion site. Though this is a rare event, it is still a risk.
There is a potential risk for thrombosis or a blood clot. Inflammation in a vein can develop from the use of all types of IVs, including PICC lines.
Infection may occur at the insertion site or in the bloodstream.
PICC lines can come out, partially or completely, if they are not properly secured and fully covered. PICC lines can move out of position in the vein and may need to be repositioned or replaced.
Your PICC line may become blocked! If this happens, medication may need to be used to clear it.
ALWAYS CALL YOUR HEALTHCARE PROVIDER IMMEDIATELY IF YOU NOTICE ANY OF THE FOLLOWING SIGNS OR HAVE CONCERNS REGARDING YOUR PICC LINE:

Swelling, redness, red streaking, foul odor, hot or hard area in your PICC line arm
Pain in your PICC line arm
Fever or chills
Swelling of the hand, arm and/ or neck on the same side as your PICC line
Leaking of fluid when you flush the catheter
If your dressing gets wet or becomes compromised in any way
MY RECCOMENDATION FOR PICC PATIENTS…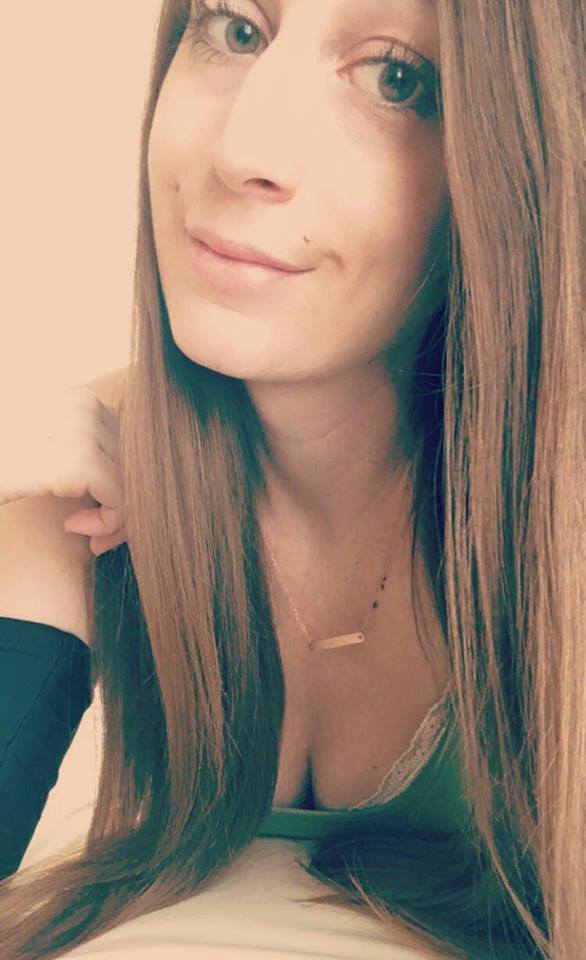 I highly recommend investing in a PICC line cover, beyond the surgical-netting you'll be sporting on your way home post-PICC placement. You don't want to risk snagging your tubing or your pet accidentally pulling it out.
Mighty Well designed the PICCPerfect cover, and it truly lives up to its name! They come in a variety of colors and prints, the antimicrobial fabric is extremely comfortable and most importantly, it protects your PICC line. It's a convenient way to access your line for infusions without having to remove it and not to mention, they're pretty stylish too. If you do your best to provide proper care, your PICC line can be a life saver; ultimately, the risk is worth the reward.
"I share my problems, only to share my solutions" – anonymous.
Got more questions about PICC Line?  Join us in our Friends in the Fight Group to connect with our community.