Catherine Franklin (a.k.a Cat Seven) is a pioneer of Digital Marketing and the Founder of SEOwhat.com, an extremely successful business! Her passion and skill for digital marketing is nothing short of amazing. However, when she started having symptoms of Lyme disease, her strength to battle for her life was truly tested. There was a gradual decrease in her health, including more stress, a change in personality, memory issues, constant pain, and she was getting sick regularly. Sooner than expected, the priority became fighting for her life. To the people out there who tell Lyme Warriors: "Well, at least this is better than cancer", know that "There is no one better than the other. Lyme is its OWN beast." ~ Cat Seven. 
We had the privilege to interview Cat and get her insights as a Lyme Warrior and Entrepreneur. 
HOW HAS BEING DIAGNOSED WITH LYME DISEASE AFFECTED YOUR RELATIONSHIPS? 
"Lyme has changed me in many ways, and that means that most of my relationships with my friends and family have changed because of it.  One of such cases is with my husband. I got married in February of 2014, I truly believe my husband and I found each other for a reason. He looks like a manly man, a tough Harley man, but I couldn't ask for a better person to help me fight through this.
The days I can't walk, he walks for me; the days I can't keep going, he helps me to get through to the next morning. When I get a herx reaction, and can't do it anymore, he will let me rest. He will set his alarm, switch out my meds from my PICC line, flush it and monitor me, even though he has to get up at 4:30 in the morning to work.
He is my rock!"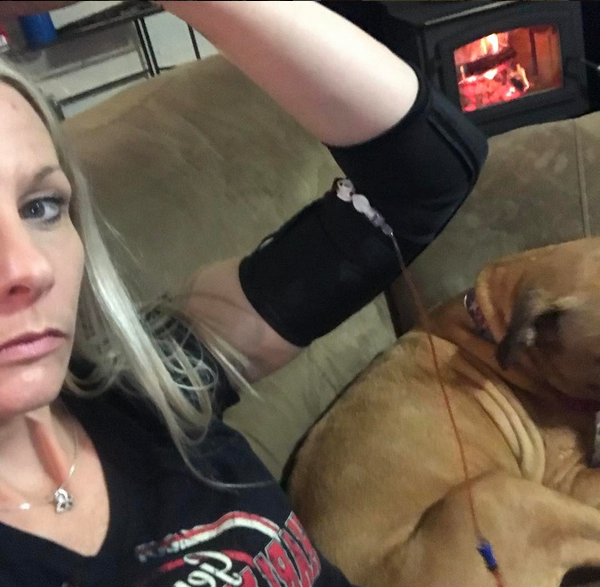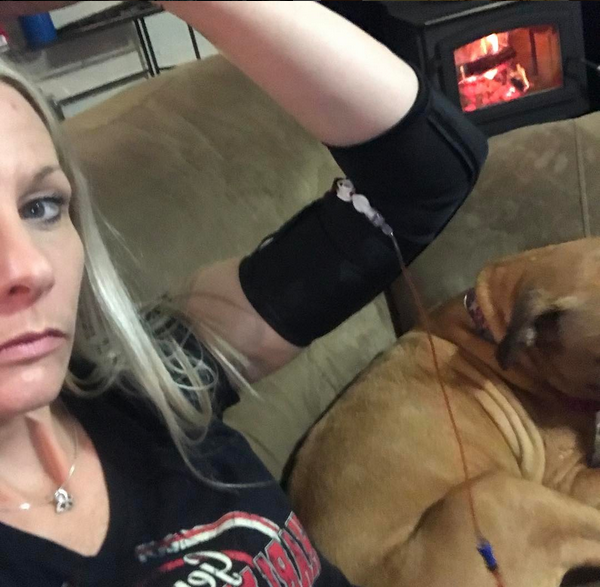 Cat Seven Doing Her Infusions With Her PICCPerfect PICC Cover.
IN REGARGS TO YOUR PROFESSIONAL CAREER, WHAT CHANGES HAVE YOU SEEN?  
"Unfortunately, Lyme has affected my work to the point that I've had to downsize my business and bring it back down to just me and a few contractors. My business, which was a corporate office, with 12 employees and 50 contractors, downsized to just me doing what I love to pay my bills."
"When you downsize a business, you wonder if you'll ever be able to rebuild what once had. Will others allow me to rebuild or clients want to come back to me after being so sick for so long?
However, I am fortunate to have some amazing colleges that know Lyme and accepted me. However, none of this will take my passion away – I PRAY that one day I will be a workaholic again, and in return grow my business with my skill sets!"
ARE YOUR EXPECTATIONS OF OTHERS DIFFERENT, AND VICEVERSA? 
"My friends' expectations of me have changed. Many people have given up on me, and I have seen who my true friends are. They understand that I do not mean to be unreliable or break plans and will be there for me no matter what. I am a giver, but not all of my circle gave back – realizing that made me stronger."
AT THE END OF THE DAY, WHAT ARE YOU MOST THANKFUL FOR IN LIFE?
"I am thankful for my hubby… I found my soul mate. And then my health took a bad turn. But he sticks beside me and loves me not matter what. On days that I look HORRIBLE, he STILL calls me beautiful!
I am thankful for my mother. She will be there at any moment to allow my husband and I to have a break from this craziness we are living in. She will come to the house give us an hour or more to have us have US time
I am thankful for my kids. My daughter is my biggest fan. When I am very sick, she comes in and has the biggest smile on her face and says, 'mommy, you're winning! When you're sick this means your killing the bad stuff'!
She actually wrote a letter to persuade the CDC to get us more help. As a third grader, she shared with a beautiful drawing that her dream was to a find a faster cure for Lyme – she got the news reporters to come to the house so she could tell my story. She got the attention of thousands! "
Check out the video here: Mankato 9 Year Old's Picture on Lyme Disease Goes Viral – KEYC 14-03-2016