Since tomorrow is Valentine's Day, we wanted to create a blog that compiled, from our customers' experience and words, why they loved their PICCPerfect PICC line Sleeve. We have gotten so many special messages and they have served as our inspiration to keep on working relentlessly on Mighty Well. As we continued to receive those messages, we noticed that there were recurring themes that kept on coming up. Hence, we decided to go through the PICCPerfect testimonials and product reviews that we have received to create the following top 5 reasons people love PICCPerfect!

1. NO SLIP DESIGN!
The most annoying thing is feeling that your PICC line sleeve is constantly slipping down and having to pull it up your arm every 5 minutes… Or to wake up in the morning and have your sleeve all the way in your hand… The PICCPerfect's elastic bands were specifically included in the design to keep the sleeve in place at all times!
"Not having to constantly pull up some silly sock or bandage is just another thing off my plate so I can focus on healing. I'm so excited for you guys. This is an all-star product for sure." ~ Sam 
2.  THE PICC LINE'S EXTENSION TUBING DOESN'T HAVE TO TOUCH THE SKIN
PICC lines with extension tubing have hard plastic elements along the line, such as the on/off clamp and the spin lock. These can cause irritation due to constant rubbing against the skin. Having a PICC line sleeve with a double fold design means that those plastic accessories do not have to touch your skin because you have a layer of fabric between the extension tubing and your skin. Your skin is already irritated from the weekly dressing changes, so why put it through more trouble?
'There's no discomfort from the PICC line rubbing against my skin – because it doesn't! It also keeps my PICC in place better than any other cover does, especially during the night." ~ Abi
 3.) DO IV TREATMENTS WITHOUT EXPOSURE!
PICC line users love that they can pass the line through the access holes in the design because that allows them to connect their medication to their PICC line without having to expose their insertion site, protecting it from contaminants and gawkers alike!
"Loved the product; very comfortable and fashionable…When she forgot to do treatment at home, she loved how she could do treatment at her work without exposing her insertion site — nobody would notice or stare!" ~ Holly got a PICCPerfect Sleeve for her daughter
"Thank you, #piccperfect…! He fell in love with his sleeve because it has two slots [to] put the two lines through. Your work is amazing! #cancersucks #leukemia". ~ Denise for her son.
4. SOFT TOUCH FABRIC AND COLORFUL PATTERNS!
It took us a long time to find the perfect fabric, but we finally did! It's an extremely soft and comfy fabric, with antimicrobial and moisture wicking properties, as well as 4 way stretch and machine washable.
Not only that, but we knew that if you have a PICC line, you are probably going to wear your PICC line sleeve seven days of the week. However, we are sure you don't wear the same outfit every day – which is why we wanted to have colorful patterns that you could mix and match with your daily outfits.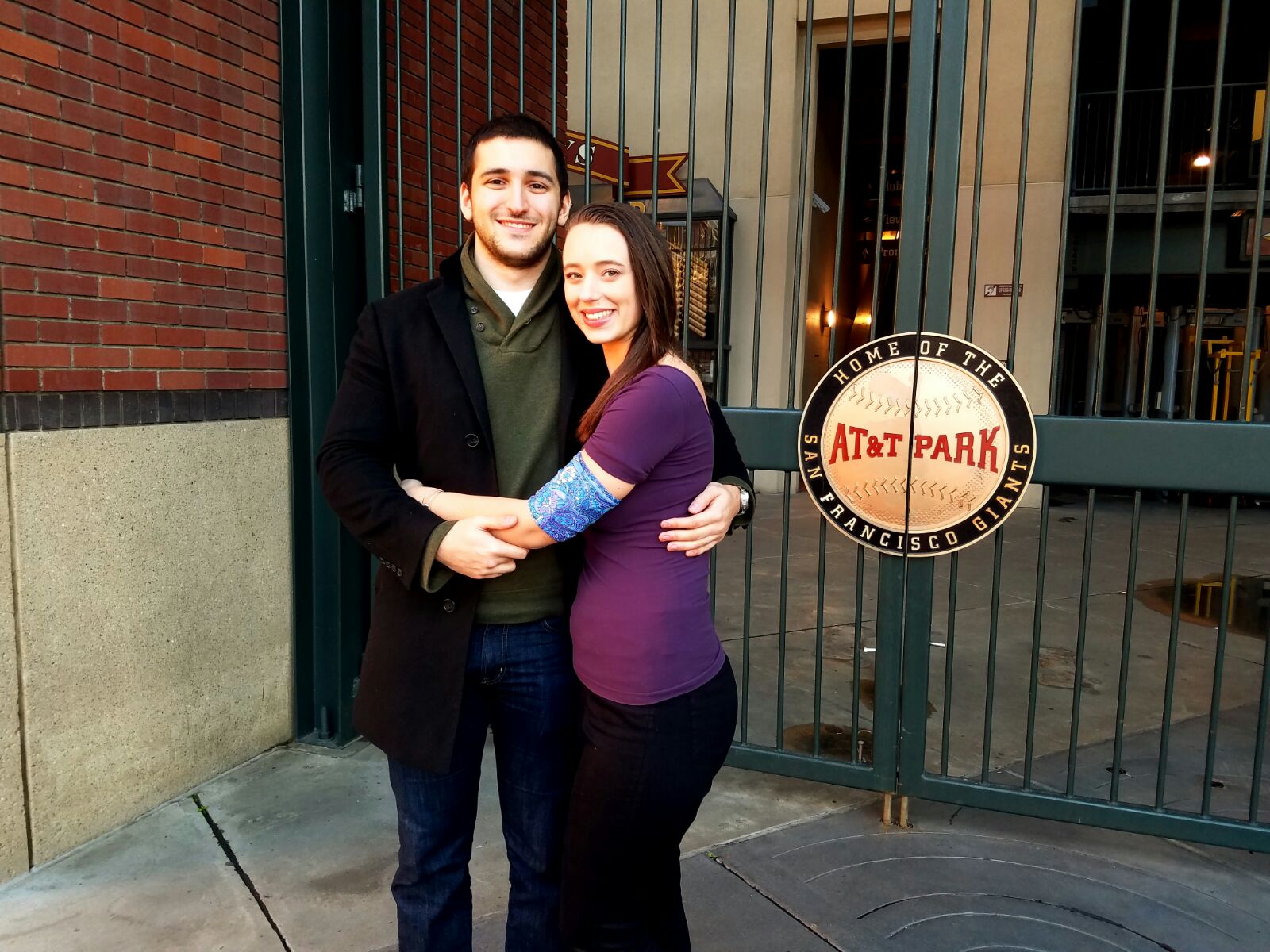 Emily visiting the AT&T park in SF wearing the Arlene PICCPerfect Sleeve. 
 "The minute you put it on your arm you will love it." ~ Torrey
 "The smaller cover fits her arm well and works great during her treatment sessions. It is also a very attractive accessory for her, especially during the hot summer season with sleeveless shirts, etc. Thank you again!"
~ Mat & Karen got the PICCPerfect sleeve in the pink pattern for their daughter Kyra. 
"Absolutely IN LOVE with this PICC cover! I tried so many different ones – classic mesh, cut socks, Sleek Sleeves, and more – before coming across PICC Perfect, and I couldn't be more satisfied. I will definitely be ordering more and building a PICC cover closet!" ~ Abi
5.  POSITIVE THINKING = FASTER HEALING
 We truly believe that having a positive attitude in life, especially about a medical condition, will have a positive impact towards a faster recovery. There are scientific studies and research backing this theory. According to an ABC News article, author Donald Cole of the Institute for Work and Health in Toronto was involved in a case that reviewed 16 studies analyzing patients' attitude toward health. "In each case the better a patient's expectations about how they would do after surgery or some health procedure, the better they did," said Cole.
This is why we named the company "MightyWell™", because that's how we want all of our users to feel like! We wanted to help people, through PICCPerfect, to feel more confident about themselves and what they could accomplish! When Molly first reached out to us saying, "…I don't feel I have to hide anymore!", we knew we had done something right.
 "I got the PICC Line cover for my son so he could go to school like a normal kid again. I even let him participate in gym class. When we got the cover my son thought it was so cool and he thought he looked like a basketball player!" ~ Jillian got a black Benji PICCPerfect Sleeve for her 8-year-old son.
"I LOVE it! And I had a blast with you all! With Lyme, the little things we can control, and make easier day to day, really do help when those tough days hit…" ~ Sam 
---
 We want to thank each and every one of you that has sent us a special message. We have just included a few of them in this blog, but for us, every day we receive these special messages from people that have used the PICCPerfect PICC Line Sleeve, we receive a bolt of joy and motivation to keep going! It is all we need to keep living Mighty Well and continue to help others to do so as well!
Got more questions about PICC Line?  Join us in our Friends in the Fight Group to connect with our community.