I'm 21 going on 71, or so it feels.
I often joke and say, "I've been through more than an elderly person."  But sometimes, it's not a joke at all.  It's how I feel–especially since my doctors say that my body is that of an old woman's.  My story starts when I was 11 months old.  I was diagnosed as a severe asthmatic and progressively got worse.  Worse to the point that I could no longer walk up a flight of stairs without my mom carrying me.  Little did we know, it was not asthma, but a failing heart.  I was born with a rare heart disease called restrictive cardiomyopathy.
I was in heart failure at the age of 10 and needed a new heart in order to live.  I was unable to go home, so I spent Christmas, Hanukkah, New Years, and Valentine's Day in the hospital waiting for my new heart.
I RECEIVED MY HEART TRANSPLANT AND IT WAS AS IF I WAS REBORN! I COULD BREATHE, AND NOT ONLY COULD I WALK UP A FLIGHT OF STAIRS, BUT I COULD RUN UP A FLIGHT OF STAIRS.
I was doing well with my new heart, except 9 years later (2 years ago) I was diagnosed with almost stage 3 post-transplant, Hodgkin-like lymphoma. I had to do 8 months of chemotherapy via a PICC line in my arm.  Not only did the PICC line deliver chemo, but it delivered my blood and platelets for my many blood transfusions.
MY PICC WAS MY "BUDDY" FOR 8 MONTHS.
 It became by buddy because I lost my BEST bud, my hair.  I lost my long beautiful hair along with 25 pounds.  I was 19 years old, bald, and 75 pounds.  I felt disgusting.  What seems so minuscule, was so important to me.
I looked sick.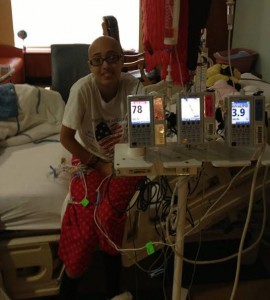 IT WAS DIFFERENT WHEN I HAD MY HEART TRANSPLANT BECAUSE I NEVER LOOKED VISIBLY SICK, BUT WITH CANCER IT TOOK EVERY OUNCE OF CONFIDENCE I HAD.
I remember I would stare at myself in the mirror and begin to cry.  I felt so ugly and I was so dependent on everyone around me.  What is so simple to people, such as walking to the bathroom or taking a shower, was impossible for me.  I needed someone to physically walk with me and bathe me because I had lost my ability to do so.
CANCER CAN TAKE A LOT OF THINGS, BUT IT COULD NEVER STRIP ME OF MY HAPPINESS AND HOPE; NOTHING COULD STOP ME. 
 I am one year in remission, and still have my healthy transplanted heart with some hair back. 🙂
MY JOURNEY WAS A LONG AND ROUGH ONE TO SAY THE LEAST, BUT I AM BACK–EVEN IF MY BODY IS DAMAGED IN OTHER WAYS DUE TO EVERYTHING!
Join us in our Friends in the Fight Group to share your stories and connect with our community.