With all of the news and changes to day-to-day life, we needed a way to feel grounded. So, we sat down with Mighty Well co-founder, CEO, and all around boss lady, Emily Levy!
Emily has taken this crisis in stride, relocating early on with her Mighty Well team from NYC to RI, in an effort to leave the distractions and germs of the city and focus on helping their Friends in the Fight. While making such a big move is definitely a sacrifice, the bottom line is that this pandemic is a different ballgame for those of us with chronic illnesses. Emily had some thoughts about how our experience may be different:
As someone who has an underlying medical condition, how does it feel when people state that this virus isn't so bad because it only affects the elderly and chronically ill?
As I write this, the tides are starting to turn and the data is showing that this not only affects people who are older or have preexisting conditions, but young people as a whole are now being included in those CDC statistics. We still don't have enough data, but as a society, I would hope we would all come together to protect our communities and not be selfish that there are no waits at the trendy restaurants, and that now is a good time to get your tan on.  You don't know who around you may be at risk. People with underlying conditions can look and act just like you. When you go out during global calls for social distancing, you are directly affecting people like us. When you ignore us as "just" the elderly and sick, it implies that our lives are not valued.
Do you think this line of thinking can cause physical harm? Does it change the precautions people are willing to take?
It already is. The precautions that people are now starting to take are what many people in the chronic illness community already have been living with for years. There is a reason we are seen as "difficult" by the healthcare system when we only want our clinicians to wash their hands properly, or swab the end of our IVs long enough with alcohol to actually kill the bacteria that they could be injecting into our bodies! I hope this causes our society to wake up to the social shifts needed that the chronic illness and disability communities have been crying out for for years.
What message would you send about how to face COVID-19 and how it affects your community?
COVID-19 will hurt the Mighty Well's Friends in the Fight hardest. WE are the chronically complex, the disabled, the underlying conditions, the overwhelmed immune systems who the media is bringing light to. Not all of us look sick, so treat everyone you interact with online and in-person as if they were. This could literally kill us! I urge our community to take this opportunity to educate society at large about how to live a life from home and a germ-aware life.
Emily's Top Three Tips for living Mighty Well from home:
No one wants to feel stuck in a monotonous environment. Now may be the time to give your living space a makeover! Clean, redecorate, or move things around to create an office space and relaxation zone. Set up a reading nook or a zen corner — whatever you find yourself needing! Make your home a place you feel nurtured and motivated.
2. Stay connected
Social distancing doesn't have to mean social isolation! Call your friends and family. Send out thank you cards to people you feel grateful for. Tag someone in an old memory on social media. Attend a virtual event like a concert, film screening, or book group! And don't forget to connect with your Friends in the Fight, who get it on a different level. (PS — our Friends in the Fight facebook group will be hosting virtual events this coming month to keep us all connected and having fun, so stay tuned.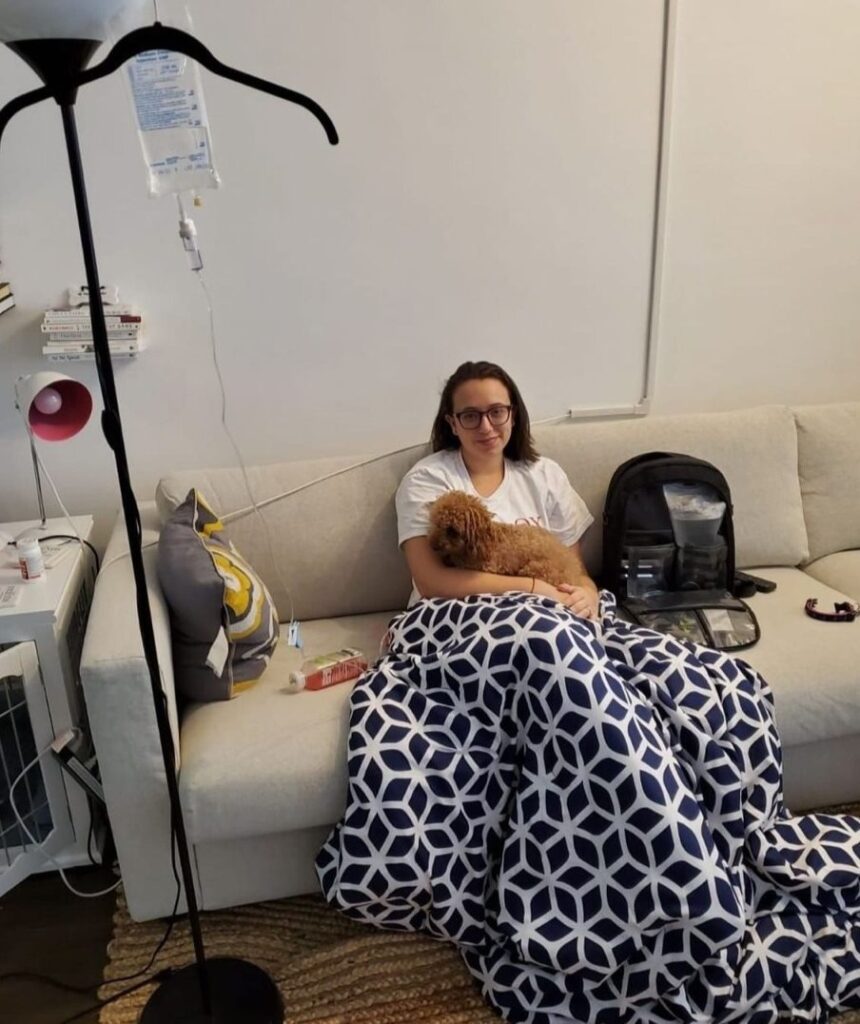 3. Speak up
Now is the time to remind the world that we exist, that our lives are valuable, and just how hard we work every day to turn our realities into strength. People are getting a taste of what we've known for years. So let's use that momentum and understanding! Share your experiences with friends and family! Be proud, and post your story online! Share the stories of other spoonies to remind the world just how many of us there are, and just how Undefeated we remain.
Sending Mighty Well wishes to our spoonie community!