With Thanksgiving right around the corner, we're finding time to slow down, to reflect, and to give thanks to the most important people in our lives. Though this season can be physically stressful for people living with chronic illness, the holidays also bring special moments spent with loved ones that are worth treasuring. Don't waste this precious time trying to find the perfect gifts to show gratitude. This holiday season Mighty Well has got you covered!
Our Holiday Gift Guide features the perfect gifts for folks in and out of the chronic illness community. Check our our top recommendations below!

Jump to A Section:
Juice Beauty Lip Crayons
These lip crayons have a unique blend of phyto-pigments that leave lips feeling extra creamy, with a smooth lightweight finish. These pigment-rich sticks go on super easy, giving a beautiful and subtle shine for everyday wear into the night. Juice Beauty uses an exclusive plant (containing a blend of rose, eggplant, moringa and eclipta daisy) for better skin hydration. While most other products' base is tap water, Juice Beauty's revolutionary formula contains an antioxidant rich botanical juice base. This striking product is only $22 so you can get different shades everyone will love.
"I have bought this product multiple times and have never been disappointed. It goes on light and almost feels sheer but there is a nice color to it AND it lasts. Highly recommended."

Ulta.com
This wonderful organic product was developed by Juice Beauty's founder Karen Behnke, who is a serial wellness entrepreneur. Her mission was to create a meaningful change in the beauty industry by providing consumers effective and healthy personal care products. Juice Beauty prides itself on creating products with integrity by only manufacturing in the US, using organic farmers, utilizing sustainable containers and printing with soy ink.
Click here to visit the Juice Beauty Store.
Lyme Warrior Necklaces
These fashionable forward necklaces empower and give wearers the strength to keep fighting. You can rock these high-quality, stainless-steel necklaces with every outfit as they come in silver, gold and rose gold. These necklaces are highly affordable, at $14.50 per piece, you can splurge on every color and not even feel guilty!
"Lyme Warrior is an incredible nonprofit dedicated to a supportive community. From a diverse, grass roots beginning and the people battling this disease fighting to have a voice, Lyme Warrior strives to empower people and help fund research for a cure."

Great Nonprofits
Lyme Warrior is such an inspiring nonprofit – a group of wonderful people diagnosed with this chronic illness who aim to spread awareness by fighting for more research and better treatments. Lauren Lovejoy, the founder of Lyme Warrior has not let her diagnosis define her, rather she is using it to fuel her fire to develop this organization. Her goal is to empower and unite those battling Lyme Disease to make a difference in the community. Her successes are very impressive, she has not only brought so much awareness to this chronic illness through fundraisers, campaigns and her fashionable products; but also has shed an abundance of light in the lives of those struggling with this diagnosis with Lyme Warrior's meaningful "Smile Boxes".
We've partnered with Lyme Warrior for the holidays! If you enter "MIGHTYWELL" at the check out you'll get 10% off on the retail price and free shipping.
Click here to visit the Lyme Warrior Store.
The Mighty Well Support Pack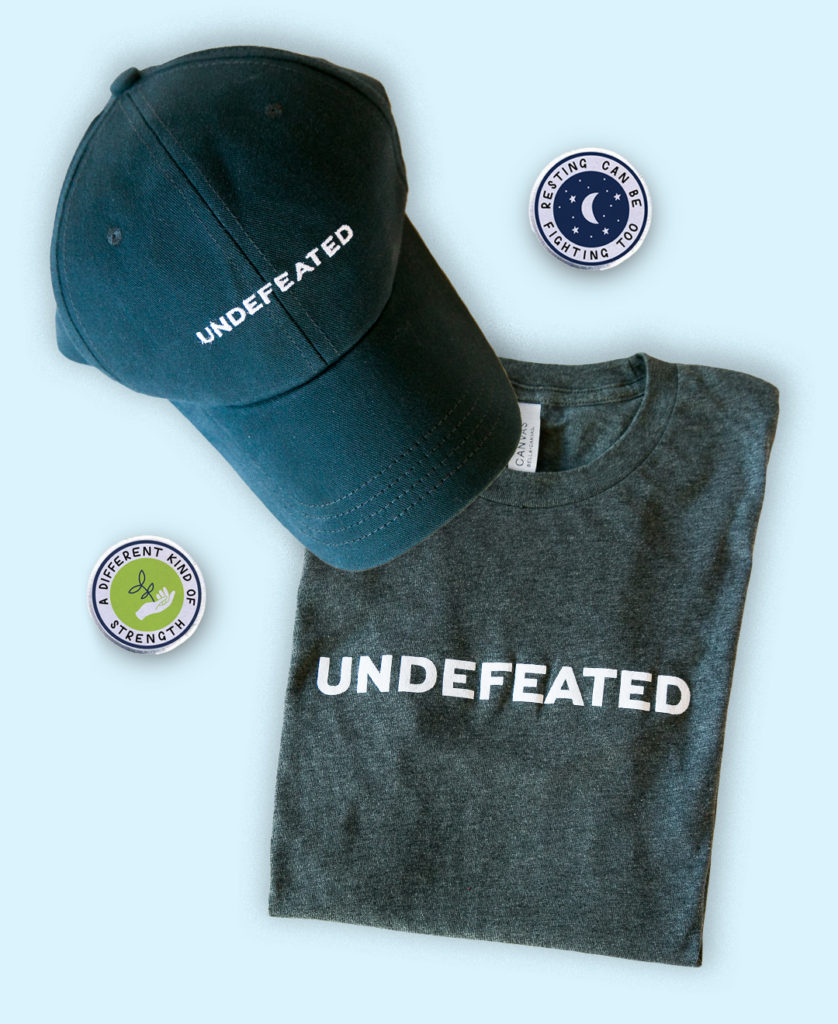 We are so grateful to partner with each of these brands to help you find the right gifts for your loved ones, and have been working behind the scenes here at Mighty Well to make sure we can share some great gifts with you this season too!
Join our Friends in the Fight and wear your diagnosis proud with the Mighty Well Support Pack! We have compiled a great bundle with our Undefeated Cap, Undefeated T-shirt, and Limited Edition Holiday Patches all for the small price of $29. This gift is a great reminder to anyone that they are stronger than they realize. Show your strength and support with the Mighty Well Support Pack!
To celebrate the Holiday Season we've marked down the Mighty Well Support Pack to $29!
Click here to shop for this bundle.
Brave Soul Blankets
These stylish and comfortable blankets bring warmth and coziness to each person. These handmade double gauze blankets are so popular for individuals with chronic illnesses as many of us struggle with temperature regulation. These blankets provide coziness, without too much warmth and weight. Brave Soul Blankets designs beautiful blankets that make a difference in the community, providing comfort and support to all of its wearers.
The founder of this well-respected nonprofit is Melaney Neimac, who wanted to create blankets for people with chronic illnesses, mothers on bed rest for high-risk pregnancies and parents in the NICU with their preemie. Melaney worked as a pediatric neuro-trauma nurse, passionate for many activities such as hiking and crossfit, until she was diagnosed with many life-altering illnesses.
"Absolutely amazing! These double gauze blankets are wonderful if you're seeking a breathable fabric. The metallic gold is much more vibrant than I anticipated which was a wonderful surprise! In general such a beautiful blanket that I also had embroidered and has been a helpful reminder during my recovery from a major surgery"
Having POTS, Cystic Fibrosis, Mitochondrial Disease, Global Digestive Tract Paralysis, Mast Cell Activation Disorder – Melaney has spent her fair share of time in hospitals, infusion clinics and appointments. Melaney knows exactly what type of support she needs during these long and difficult times, and these blankets do just the trick!
Click here to visit the Brave Soul Blankets Store.
Able Label Velcro Jeans
These flexible jeans are stylish and make wearing denim easy and comfortable. The hidden velcro fastening makes for much faster dressing and keeps the jeans in place all day long. You can wear these jeans everywhere – from long hospital mornings and doctor appointments to long walks outside and dinner dates.
"The Able Label provides quality, stylish clothes with adapted designs and hidden extras that make self-dressing easier for those with dressing difficulties"

Able Label Website
The Able Label designs adaptive products with quality fabrics and innovative fastenings specifically to make dressing quicker and safer for those who may suffer from restricted movement. Katie Ellis, a fashion buyer, founded The Able Label when her grandmother was diagnosed with Parkinsons and dressing became quite difficult for her. Katie wanted to create a fashionable brand that was accessible to all consumers – so they did not have to compromise fashion for functionality.
Click here to visit The Able Label Store.
Harbor Hood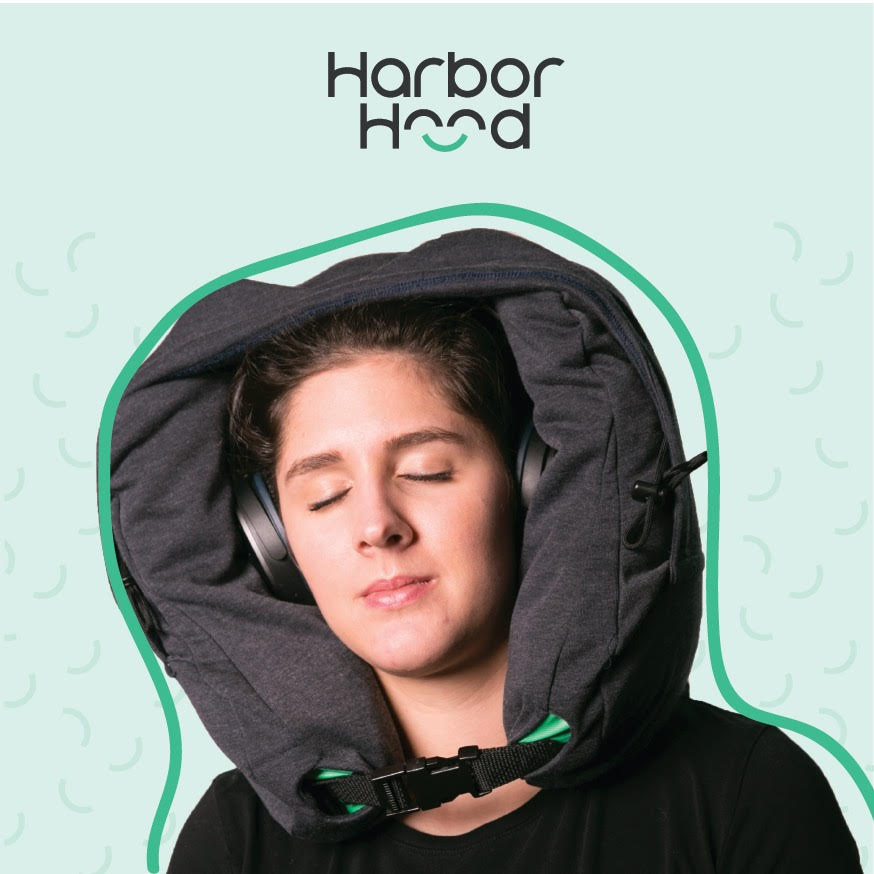 This pillow hood is the perfect product for patients who need a bit more comfort while sitting in the waiting room or for travelers who need a bit more personal space while jet-setting off to their next adventure. These unique pillows are high-quality, eco-friendly and made sustainably right here in the US. The shredded memory foam blend will have you never wanting to take your pillow hood off! The most practical part of this product is its water-proof inner cover.
Founder, Kate Brandy, was first inspired to create these cozy pillow hoods when she would tag along with her grandfather for his multiple hospital visits. He would constantly say how cold, bright, loud and overcrowded hospitals would be, making it very difficult to get in a comfortable position to get some rest.
Click here to get your hood today!
The Mighty MedPlanner Bundle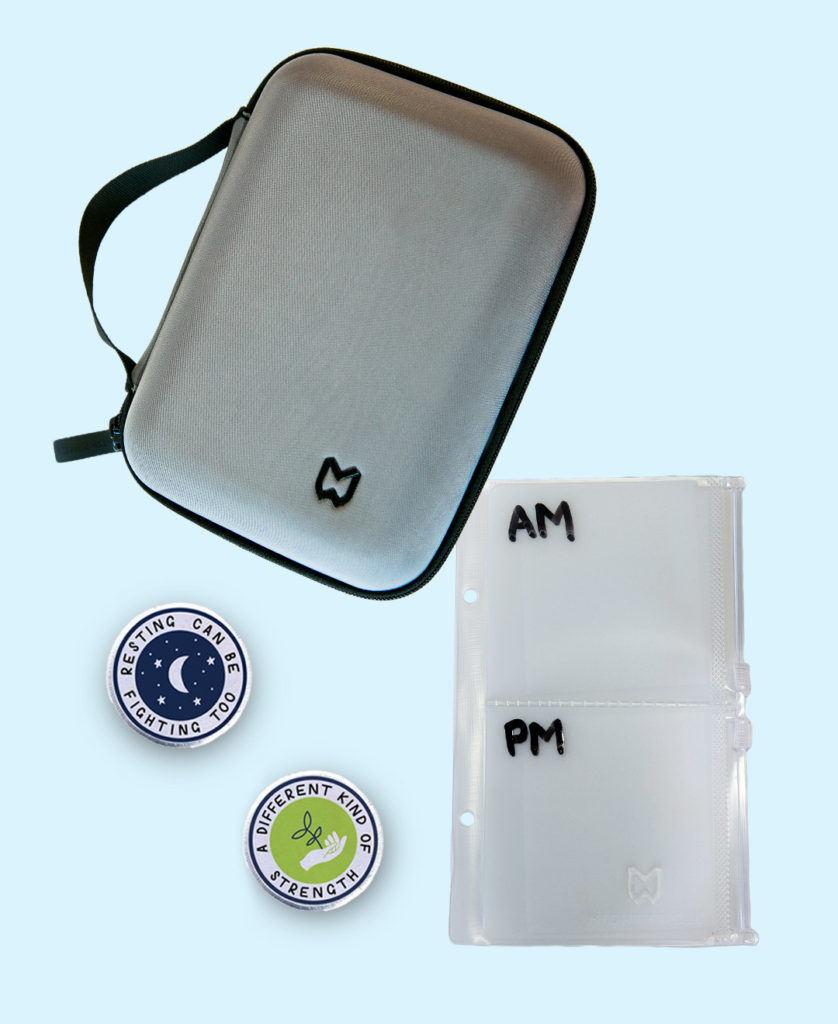 We have also created a second bundle containing two Pocket Pouches, Handle with Care Totebag and Limited Edition Holiday Patches. Take advantage of this wonderful bundle this Holiday season, which we have marked down from retail price for only $59! Our pocket pouches make carrying EpiPens, medications and more so much easier as they can all be stored in one place – these spacious pouches are sleek and easily packable. We added our tote bag so you can easily pack your new patches in style. Lastly, take us up on this steal of a deal while our limited edition Holiday patches are still available! This is the perfect gift to give yourself or a loved one this Holiday.
Want to shop for this bundle for yourself or a friend?
Click here to get your bundle today!
Kitchen Blends Meals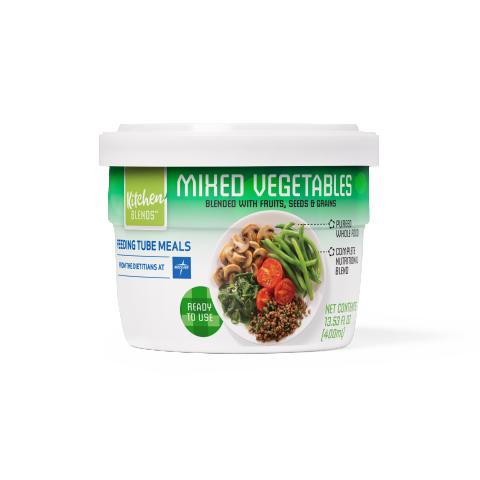 Our friends at Kitchen Blends create ready to use meals featuring familiar recipe combinations made with real vegetables to offer a complete nutritional blend for individuals who tube feed. Their mixed veggie meals and syringes could be a great meal for any of your tube fed loved ones. For other Friends in the Fight, think about gifts that can help with food prep or help them meet dietary needs. Auto-immune friendly cook books, Tupperware, or cooking tools can all make managing a strict diet at home a little more fun.
Click here to learn more about Kitchen Blends!
---
What's your wish list this holiday season? Share with us and join us in our Friends in the Fight group.
Looking for other great gifts? Head to our online shop to see all of our awesome holiday gifts.