Is it time to decide which medical device is right for you? There are a lot of reasons why patients may need to get a peripheral catheter inserted. Sometimes patients are given the option to choose between a PICC line and a port, but before making your big decision, it's important to know the facts about both medical devices.
Check out our favorite PICC/port products here!
How is a PICC line inserted?
When I got my PICC line, I went to the hospital and had a specialty nurse ultrasound my arm to look for an adequate vein. You are awake during the procedure, but they numb your arm before inserting the catheter. They push the catheter through your vein until it is in the right position, which is identified with an x-ray. Then, they bandage your arm and explain to you how to care for the PICC line.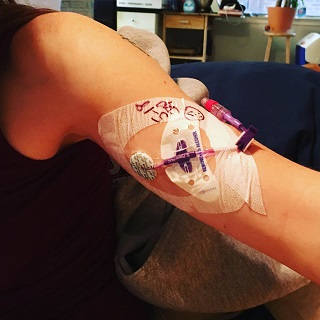 The whole procedure maybe took thirty minutes. They told me I was going to be sore afterward, but I was pain-free about two days after. They said everyone is different, and I could have had more pain because my veins were so small.