No one expects to end up with a feeding tube, and your first experience can come with a large learning curve. We know the feeling, and want to help lower these barriers! Here is what we wish we knew going in:
Feeding tube placement
Tube placement is often the scariest part. Depending on the type of tube, you may or may not need surgery. Some types are inserted by a radiologist using an x-ray as a guide, while others are inserted with an endoscopy. Longer-term tubes are inserted directly into the stomach or intestine through abdominal surgery. Your abs will feel sore for a while, so take it easy. It's important to set aside a few days after surgery for recovery and to ask someone to help you out at home until you're back on your feet. If you continue to feel some soreness or discomfort throughout your time with a tube, don't be alarmed. Soreness is an unfortunate side-effect of this health-enhancing (and potentially life-saving) device. After a few months, however, the worst of the discomfort should pass.
Tubie tip: You will be sedated for surgical placement, but not necessarily for other types or replacement procedures. You can always ask for sedation if it would help you feel more comfortable!
Post feeding tube placement
Once your tube is placed, you may need to stay in the hospital for a day or two to make sure you tolerate your feeds. This can take longer if you have any complications or food allergies. If there are no concerns over tolerating feeds, you could be discharged the same day.
Tubie tip: when receiving medications or flushes at the beginning, request that they go slowly or that you push them yourself. Your intestines won't be used to fluid and it can make you feel sick until your intestines adjust. You can also ask that they start your feeds extremely slowly (like 10mL/hour) and then slowly titrate up once you know you tolerate the trickle feeds. Some bodies just need some time to get used to it, and doctors may not realize that going too fast can cause pain and nausea. On that note – anytime something feels wrong, speak up! Your doctors and nurses are there to help you, not make you feel miserable! But they won't know to make a change unless you tell them something's not right.
Feeds: What are my options?
Once you have found a feed and process that your body tolerates, you can head home! Providers at the hospital and home care providers will help you learn how to administer feeds and care for your tube from home.
There are many brands of tube-feeding formulas, so it's ok if you don't tolerate the first kind you try! Each brand also has different types available with varying ingredients. You may want to research ahead of time to be familiar with brands and ingredients so that you don't have to process it all while groggy or overwhelmed in the hospital. While there are many wonderful feed options, Kate Farms tends to be safest for people with complex allergies or mast cell disorders.
Tubie tip: check if your hospital has a variety of feed options before your surgery. If you have any allergies or conditions like MCAS, make sure some available options will be safe for you. If not, ask if you can just bring your own. Kate Farms (as well as some other brands) will send you free samples while you figure out what works for you. They also have patient advocates available here!
Feeding tube gear
At the bare minimum, you will need the following:
feeds
a pump
skin barrier and cleaner
With all tubie products, there are many brands and styles available, so don't settle for something that doesn't feel like a good fit! If what the hospital supplies isn't great, request a different one. For example, your hospital may have Enteralite Infinity and Kangaroo pumps. Both work well, but some people simply prefer one over the other – it is ok to be picky! If you don't like any of their options, consider getting your own. To get to a place where you can enjoy yourself and live life to the fullest without resenting your tube, you need the right gear to support you.
Some specifics to keep in mind when trying out gear – do your dressings and cleaner irritate your skin? Is your bag too heavy/bulky to easily carry around? Is your pump intuitive and a good size/weight to keep with you? Again, do not settle if your first attempt feels lacking! This is your life and your health, and you deserve products that support you.
Tubie tip: While these products are all must-haves, many other products exist that can make your tube life more carefree! There are so many, in fact, that we can't fit them all here. We've compiled a list of our tubie friends' favorites here!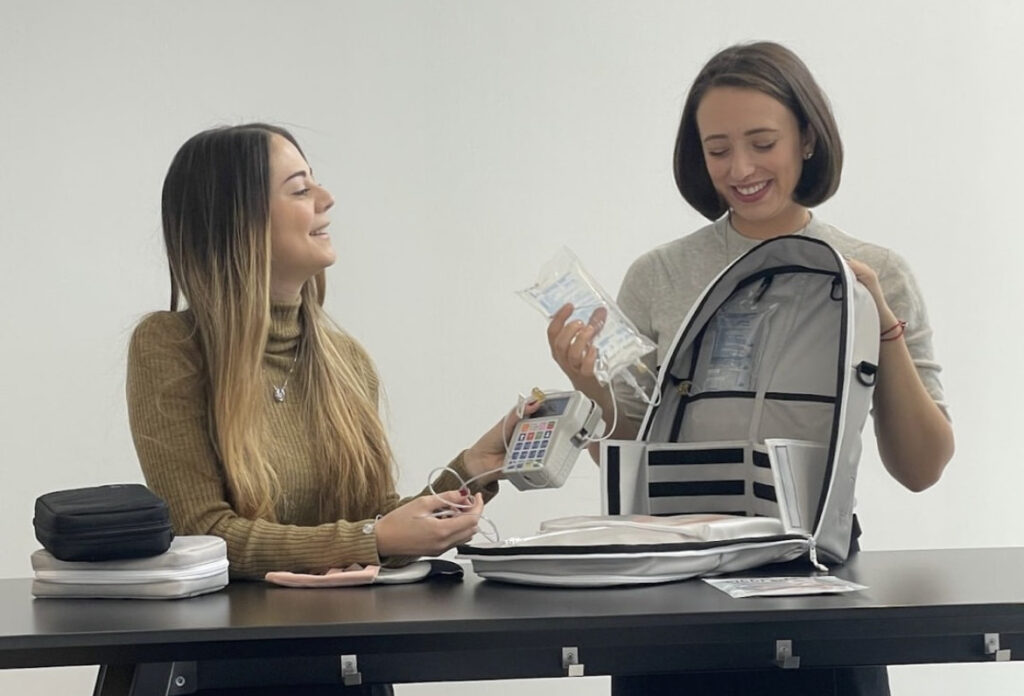 Meds and feeding tubes
Let's face it, if your body needs alternative nutrition, it probably also requires medication from time to time. There are different ways to administer medications via a feeding tube. Ask your doctor to get your medications transferred to powder or liquid form. This can make a huge difference; it reduces the labor required each time you need to administer medications and, most importantly, is much safer than pills. Crushing pills can work, but it has a high risk of clogging your tube.
Tubie tip: if you can't get a medication in liquid or powder form, get a good quality pill crusher.
Support
Getting a new medical device is overwhelming and can be scary at first, but it will soon become second nature! Support groups are great for helping with the nitty-gritty details of feeding tube use. You can learn game-changing tricks, discover new products, and meet people who understand what you're going through. We wish you the best as you begin your journey. ♡
Living with illness and disability can be isolating. Thankfully, it doesn't have to be. Sign up below to be in the know on our latest product and content releases, exclusive offers, and community events.