Happy Feeding Tube Awarenesses Week! This year marks the 10th anniversary of this important week, an opportunity to reflect on the life-saving benefits of feeding tubes for so many of our Friends in the Fight. To commemorate Feeding Tube Awareness Week 2020, we are excited to share Kayla's story with you today.
We first connected with Kayla after our 2019 Mighty Pack giveaway with our friends at Kitchen Blends. Kayla lives with a feeding tube and completed this interview from the ICU last week, so we are extra grateful to her for sharing her story with our community! Check out a few highlights from our conversation below! 
What is your diagnosis and how does it impact your day-to-day life?
I was born with respiratory problems and Ehlers-Danlos Syndrome and eventually developed Gastroparesis. Every day, I have to think about the medications and treatments I need. I have to make sure I'm always extra prepared when I leave my home – and I think that's something most people don't understand.
What is one thing you wish people better understood about life with a feeding tube?
Life with a feeding tube isn't the end of a healthy diet, it's the start of one! It doesn't have to be plain meals that resemble baby food either, there are more and more ways to eat "normally," even when on a feeding tube. 
After winning the last Mighty Well and Kitchen Blends giveaway, how have you felt an impact on your life?
It's been great! The Mighty Pack is an incredible tool. I've never had a bag designed for my medication as well as all my other necessities. It's so much easier (and cuter) to be carrying around my medications and devices without it all getting in the way. Kitchen Blends also changes how I eat with a tube! The meals are so much closer to a "normal meal" It's nice to be able to pick out a chicken "dinner"; it makes everything feel more normal. 
Check out Mighty Well's newest Feeding Tube and TPN backpack, the Fluid Motion Backpack. Using feedback directly from our customers, we have designed an updated, discreet-looking medical bag to carry around all of your medical necessities and everyday items!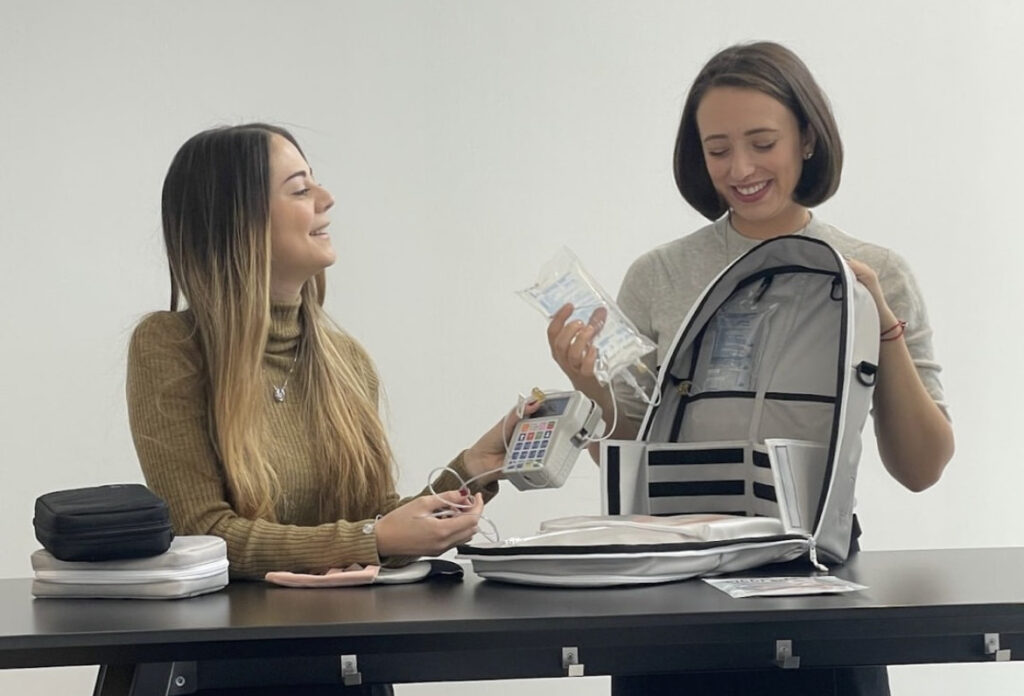 What do you think about the Feeding Tube Awareness Week Giveaway?
There is no better time for this giveaway than Feeding Tube Awareness Week! Both Mighty Well and Kitchen blends have created such amazing tools for those living with a tube. The everyday feel of the products makes a huge difference in how you feel about your illness. 
Thank you Kayla for sharing your thoughts and story with our community!
Living with illness and disability can be isolating. Thankfully, it doesn't have to be. Sign up below to be in the know on our latest product and content releases, exclusive offers, and community events.