Sofia: 130 pounds and 5′ 4″ (small charcoal mask)
The effectiveness of wearing a mask depends largely on how it fits — the idea is for all air going in and out to be filtered by the fabric.  This protects you from germs in the environment, and also prevents any germs you may have from contaminating the people around you.  Any gaps allow germs to escape.  In addition to breathing in germs, the coronavirus is known to spread from touching contaminated surfaces and then touching your own mouth, nose, or eyes.  Wearing a mask and eye protection eliminates this risk as well!  It is crucial that your mask is comfortable so that you are not tempted to adjust it and, therefore, touch your face.  So, how do you know what is a good fit?
Our sizes and features have got you covered!
sizes
Mighty Well offers four sizes for the Mighty Well Mask.  Check out the measurements in the chart below to determine the right size for you.  The mask should be snug so that air is filtered through the fabric, rather than escaping through gaps, but big enough to cover your nose and chin.  If you think you might be between sizes, we recommend choosing the smaller size.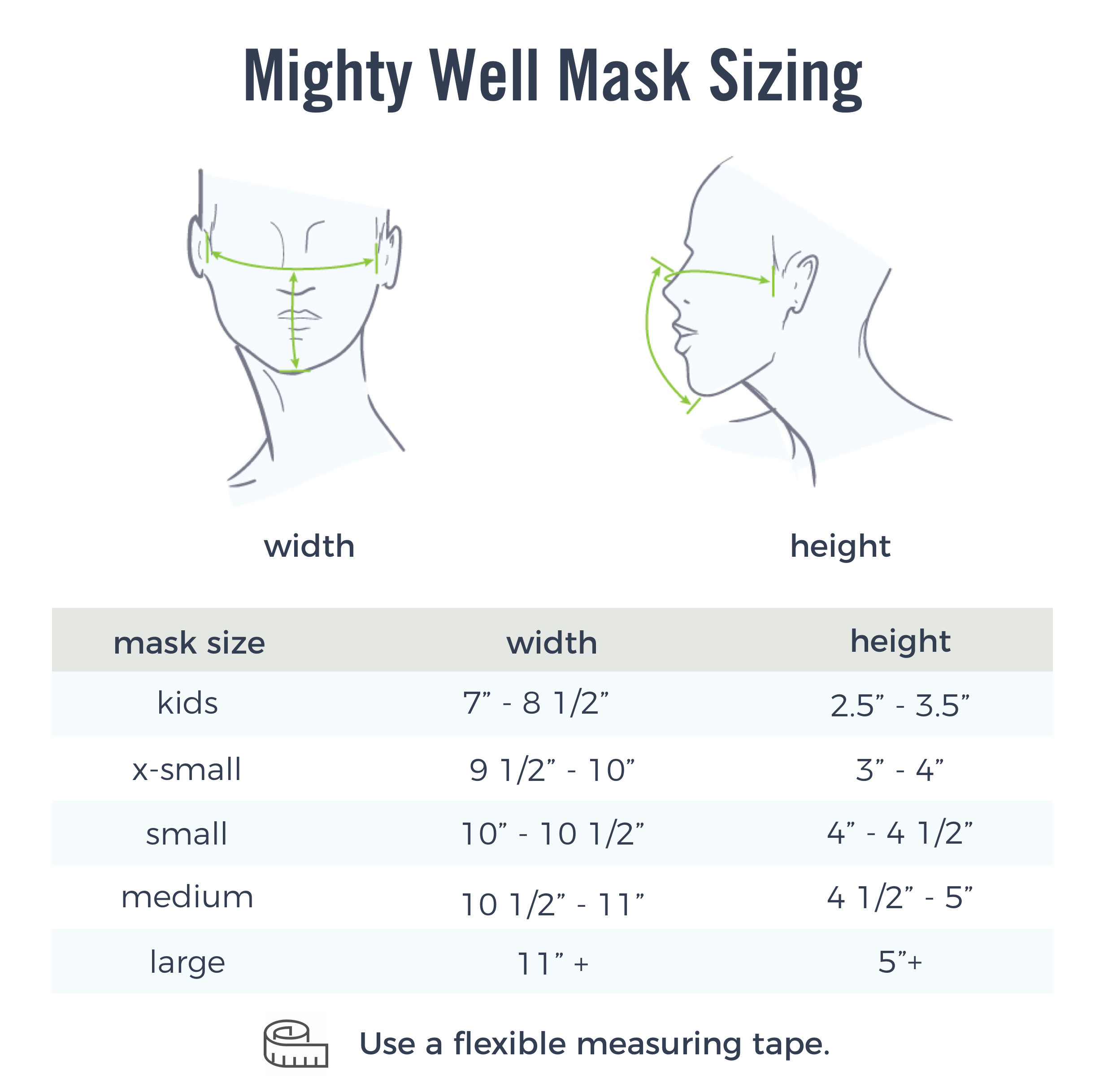 *NEW* We are now able to offer KIDS size masks, for kids aged 3-7 years old! (Use size XS for older kids, tweens, teens, and petite adults)
features
Antimicrobial silver-ion technology embedded in the fabric for life! Antimicrobial properties protect the mask against microbes — microscopic pathogens like mold, bacteria, and viruses.
Adjustable nose clip effortlessly contours your nose and cheeks to keep your mask from slipping off! It also closes any gaps in the top of the mask, keeping you safe and your glasses fog-free. Be sure to pinch your nose clip so it's snug every time you put it on.
3D molded design is made to hug your face, eliminating gaps around your chin and cheeks.
Moisture-wicking and anti-odor fabric helps you resist the urge to adjust your mask, allowing safe comfort all day long.
Ultra-soft ear-loops for all-day comfort and a secure, snug, gap-free fit.
Water-repellent up to 20 washes so you can stay safe and confident, rain or shine!
Environmentally friendly reusable mask with biodegradable bag.
*Note: In our efforts to reduce waste, we've chosen a biodegradable bag for our packaging. Because of this, note that we can't control the exact color of the bag that you will receive.