We know that feeling of reaching into our bags and sifting through (what feels like) hundreds of pill bottles to find the right one. And we know how easy it can be to forget what medication to take at what time. It can be scary to think about what might happen if the people around you don't know how to help in case of an emergency. We know all of this because we've lived it – and that's why we've created our newest product, the Mighty MedPlanner.
The Mighty MedPlanner is an amazing product that helps you pack your day-to-day essentials in an orderly and discreet fashion. The case is designed for easy organization and portability, making it ideal to bring along everywhere and anywhere. It holds everything you need to make it through your day, and leaves room for important emergency items to pack as well!
Let's take a look at the top things to put in your Mighty MedPlanner:
1. Medications, Vitamins, and Supplements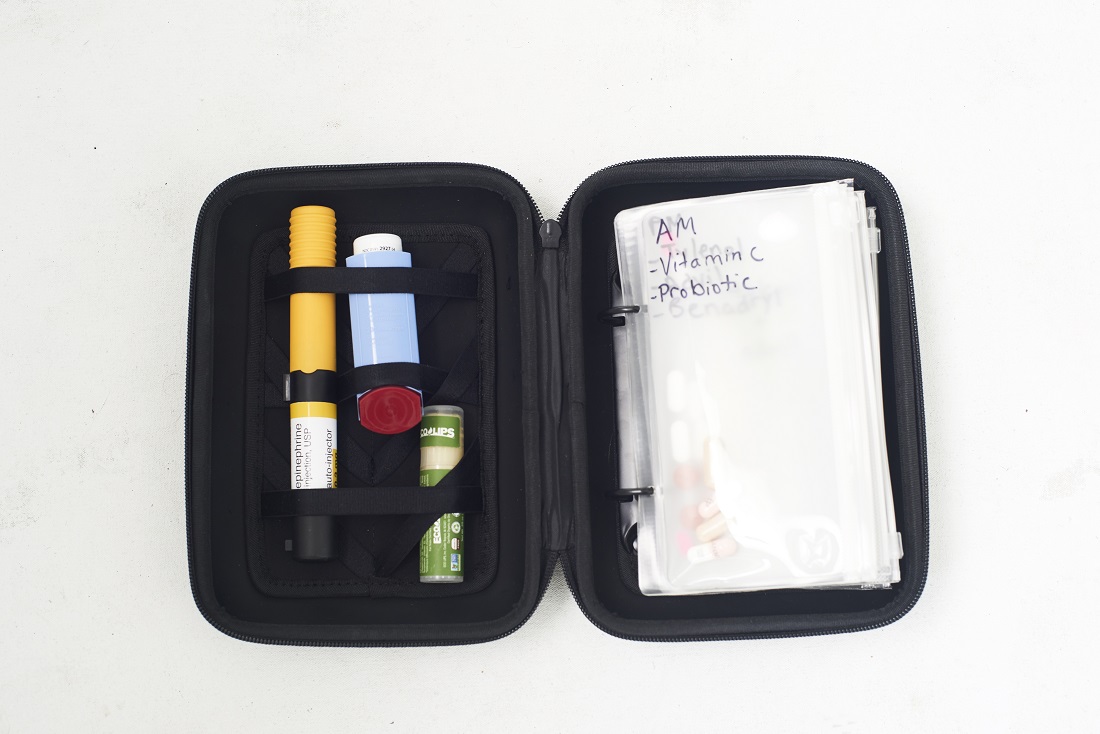 The Mighty MedPlanner is designed with separate Mighty Sleeves where you can write in the schedules for your daily medications, as well as PRN meds. These are great for helping you remember, as well as helping your loved ones best know how to help you in case you are incapable of taking your medication yourself. Vitamins and supplements also fit right in and are great for keeping the immune system in the best shape possible.
Kristen loves the organizational tools built in to the MedPlanner. Check out what she included in her review below!
"This is a well designed product which assists with medication adherence by storing everything I need in one convenient, durable, portable and easy to organize system. Not only am I using it multiple times a day, I am also recommending it to my patients." – Kirsten 
2. Snacks
Many medications shouldn't be taken with an empty stomach, and blood sugar swings can leave you debilitated. Having some small snacks like dark chocolate, biscuits, and Trailmix lets you take your meds when needed, and can help alleviate blood sugar problems and get you back on your feet.
3. Your Gadgets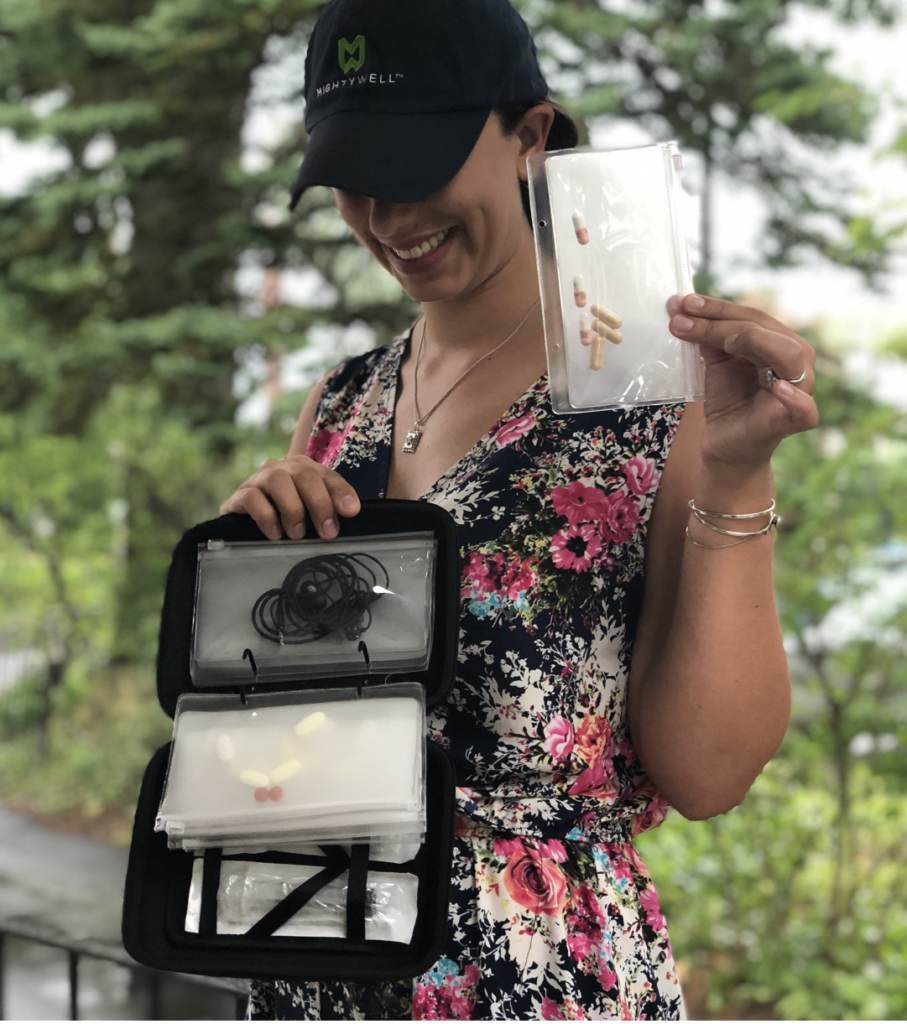 High tech gadgets today aren't just a necessity, they can help offer comfort when we need it most. Blocking out the world on a long commute with some noise-isolating earbuds can do wonders for your well-being, and help you relax when you need to. The great thing about the MedCase is that it looks just like a gadget gear case, so those iPods and other gadgets will fit right in.
4. Medical Devices
Some situations require something more than a simple pill. EpiPens are ubiquitous and great for dealing with allergies, and the MedCase has elastic bands designed specifically for them. Inhalers also fit in for those dealing with chronic respiratory ailments. The bands are even strong enough to hold a BG monitor for those that need to check their blood sugar.

5. Syringes, Needles and Swabs
You never know when you might need to use or clean your IV catheter, and many of us need syringes to administer medication. Having some Normal Saline on hand means you are covered in case you need it, and the elastic bands can hold a bottle securely like a champ. You can place wipes and swabs in the rear compartment in the main elastic fabric pocket.
6. Painkillers
Dealing with pain and discomfort is an unfortunate reality for many of us, and some quick relief is always welcome. Common anti-inflammatory medicines like Tylenol and Aleve are always good, and there's ample space in the Mighty Sleeves ring binder to keep what you need for when you need it.
7. Hand Sanitizer
Many infections can be prevented with proper handwashing, and one should never neglect this simple but highly-effective habit. A bottle of hand sanitizer will fit right in with the other tube and medications in the kit, and will always be ready when you need it.
8. Insurance Cards/Doctor Information
This vital information could save your life if kept handy, and there's ample space in the main back pocket for any cards you may need. You can even write down the doctor information and instructions on the Mighty Sleeves, so they're easy to spot in an emergency. Be sure to have this information ready on your person at all times.

If you take the time to plan and maintain your Mighty MedPlanner, you should be prepared for any contingency that arises during a trip, or even just in your everyday life. The great part about it is that it packs in all the things you might need, and looks very handsome and discreet, in a way that doesn't shout out to the world what you might be dealing with.
Here's what they're saying…
Our Friends in the Fight love their Mighty MedPlanners. It makes us so happy to see the ways people use this to help empower a life on the go, truly turning sickness into strength! Check out some of our favorite success stories below.
Since moving to college, I have been awful at organizing my pills and I am constantly misplacing my inhaler so I love that I can keep everything in one place so the stress of wondering where everything is, is gone!🤗
@mightywell_ is on to a great product to help out the chronic illness community! – Tiffany, SaltyCysters
What are you packing in your Mighty MedPlanner? Join us in our Friends in the Fight Group and share with us your ideas!